Multiplication Tables Check Assessment (MTC)
The Multiplication Tables Check Assessment (MTC) became statutory in 2021. It is a check for Year 4 pupils to determine whether they can fluently recall their multiplication tables. The MTC Assessment Framework has detailed information.
MTC Results
Pupils who sit the test will receive a score between 0 and 25, or:
A = Absent
B = Working below expectation
J = Just arrived in school
L = Left
Q = annulled
U = Unable to access test
X = not received / missing data
Z = incorrect registration for the MTC assessment
Find out how to import your MTC results into Insight here.
To date there is no national pass mark for the check, so scores in Insight will not be evaluated (coloured green/blue etc) and there isn't a way to view the percentage of pupils at or above expectation for the test.
However, we recognise that schools may want to set their own thresholds to highlight those pupils that are, for example, below average or in the lowest national quintile. Custom thresholds can be added on request.
Mock MTC Scores
In the build up to the Multiplication Tables Check, some school will record scores to help pupils prepare for the test. If you would like 25 as the 'pass mark' you can use our preset 'MTC Scores (0-25)' mark scheme. However, we can also add bespoke evaluations that change depending on the year group and term. The table below shows one possible way of setting this up.

You can record just a score, as evaluations are optional. However, without them Insight can't perform much analysis of the data. For more information about the Attainment Report, Progress Report and Progress Matrix, please click to view our help guides.
You can also group and/or filter in the usual ways, for example, SEN, Pupil Premium, Disadvantaged etc.
Please get in touch if you would like your own 'Mock MTC' mark scheme with bespoke thresholds.
Times Tables Tracking
Some schools like to track children's knowledge of individual times tables. We can set up grids with the times tables listed in the order you choose, to help you spot gaps in learning and track individual pupil progress.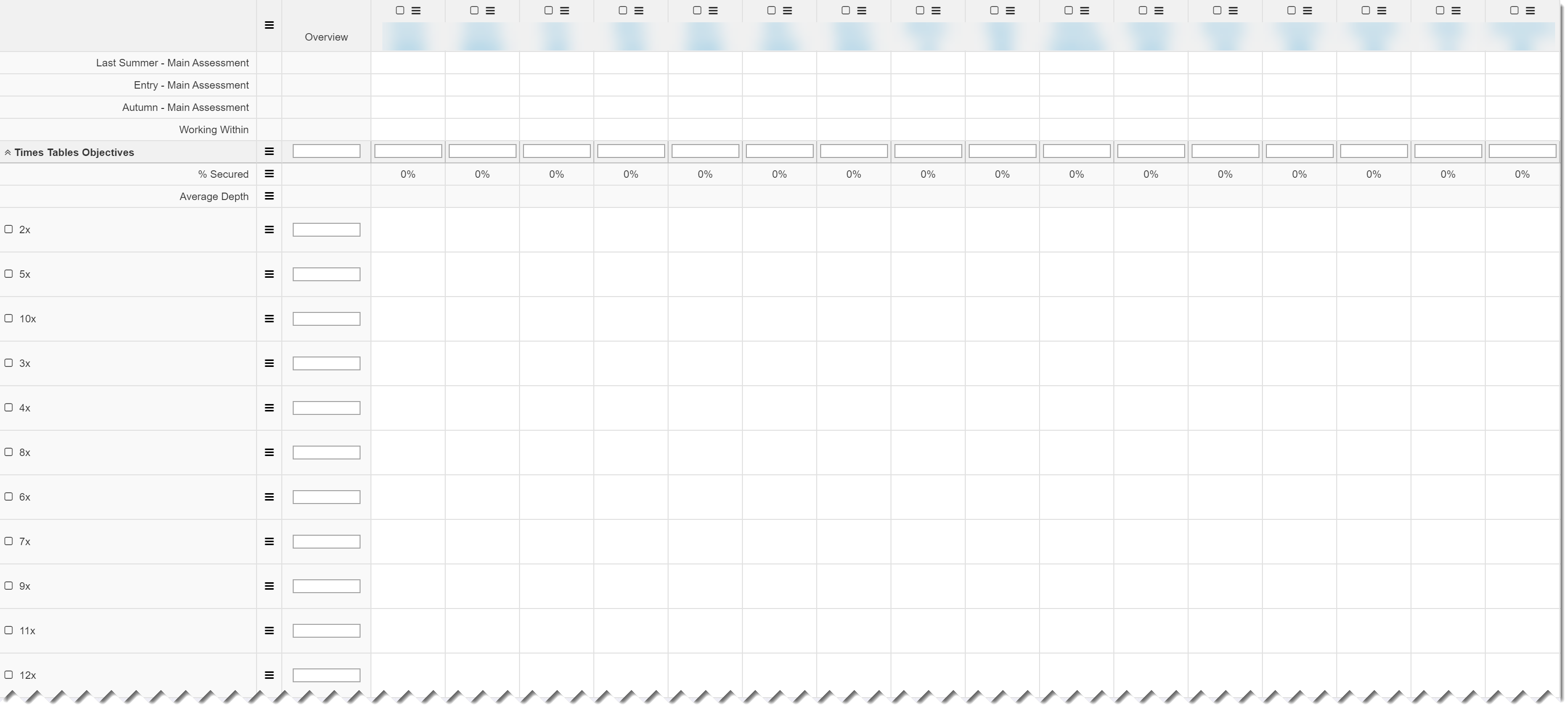 The objectives grids can't track individual test scores, but they can assess how well a pupil can recall a particular times table. You can mark each table as either 0, 1, 2 or 3 to assess a pupil's level of understanding. You can also just use 0 and 2 if you want to record whether a pupil does or doesn't know this times tables.
If your school runs a multiplication challenge, such as 'Medal Maths', we can set something up to track that too.
These are just some of the ways we can track Times Tables within Insight. If you had another method in mind, just
get in touch
and we can set something up for you.
---
---