Learning plans - Adding and using plans
Learning plans enable you to capture and monitor information about pupils with SEND, to ensure provision is effective, and that pupils are making good progress towards their targets.
This guide details how to use the default learning plan in Insight.
To begin, click Pupils on the main menu bar, followed by the pupil you need to begin a learning plan for.
Choose the Learning Plan tab, and you will see a button inviting you to Create Learning Plan.

Click the button to be presented with a blank plan.
At this point, the new plan is saved, and it will continue to auto-save as you enter data and make changes.
Standard options
Each text box allows you to type the required details directly.
There are a number of other features and options detailed below.
Owner - The Owner is the member of staff with overall responsibility for the Learning Plan. Click the pencil icon to edit.
Set Review Date - Allows you to indicate a date by which the learning plan should be reviewed.
Subscribers - Related to the review date, this allows you to indicate any staff to email when the review date is approaching. Click the button to see a list of users in your school and select as appropriate. Staff will be emailed three days before the review date, including a link to the learning plan concerned. The Learning Plan Owner is automatically added to the Subscriber list and cannot be removed. If you subsequently change the Owner the previous owner will remain on the Subscriber list but may be removed.
The number of subscribers will be indicated on the button once added.
Download - Download the learning plan as a pdf or a Word document.
Review - When you want to complete a review, this button will scroll to the bottom of the plan, where you have three options:

1. Set a new review date to keep this plan running longer - This option treats the learning plan as a working document and is useful if you want to continue to work on the same targets, which may include adding additional ones, and append additional comments.
2. Create a new plan, which may reuse parts of this plan - Your review may result in the existing plan being completed, with a need for a new one with new targets. This option will archive the current learning plan but give you the option to copy certain elements into the new plan to save time. You can choose a different template to the original plan if required.
3. Archive the plan if it's no longer needed (you can view it again later.) - Your review may conclude that the learning plan has been completed, with no need for a new one. Archiving the plan does not delete it, and any archived plans are still available to view via a new Past Plans button that will appear for any pupil with one or more archived plans.
Assessments
It may be useful to reference certain existing assessments as part of your learning plan.
Click Add Assessment to see assessments for the current pupil. The current year, and last summer, is shown by default but the Academic Year menu allows you to choose any period.
Just click any assessment to add it to the learning plan.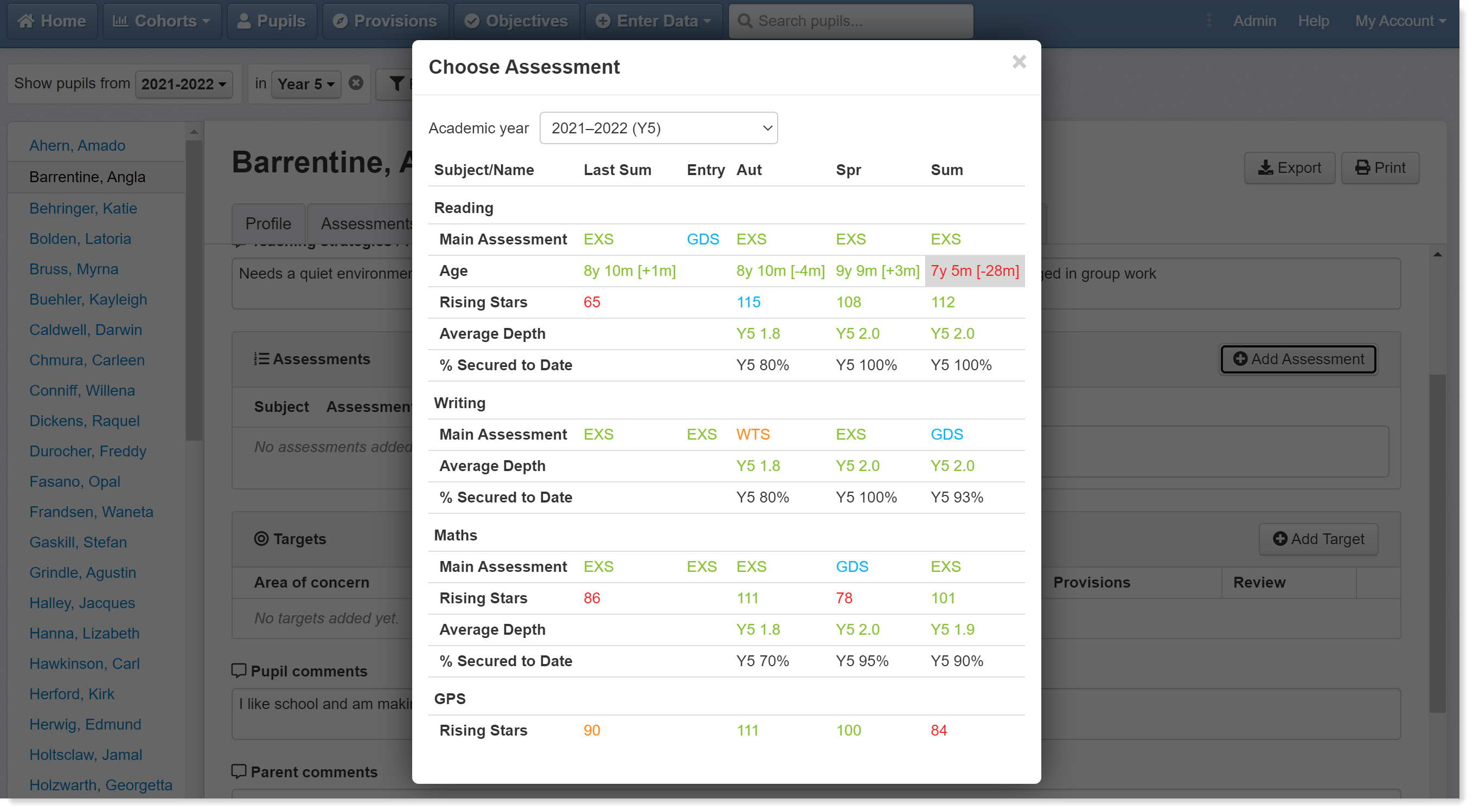 Once added, you can use the arrows icon to drag assessments to place them in the desired order. The small trash icon allows you to remove any assessments if you need to.
It may be useful to add a narrative or additional assessment information. Use the Other assessments/notes box for this.
Targets
Targets enable you to give clear expectations and an outcomes focus to your plan.
Click Add Target to add a new target row to the table.

Simply click in each section and type to complete it.
Both the Provisions and Review columns are optional. If you don't need either of these, they can be removed by an Admin user. See our
making basic changes
guide for details.
The Provisions cell allows you to link to any provision types or provision groups you have in your school. Click the Link to see your list of provision types.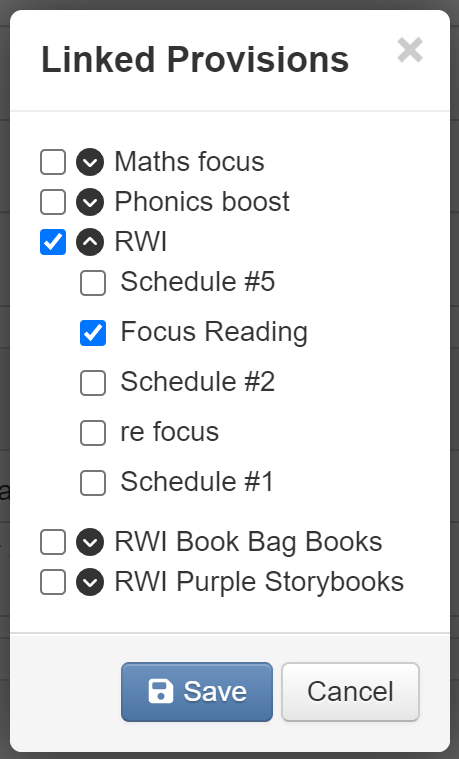 The initial list gives all the provision types, and these may be selected to indicate that this target is part of that provision focus.
If you click the small chevron next to each type you will see any provision groups that are running in your school. If you click one of these, it will add the pupil to that provision group within the Provision Mapping feature. See our guides on Provision Mapping for more detail.
The Review cell enables you to give a broad indication of outcomes for each target. Click in the cell and choose the appropriate option.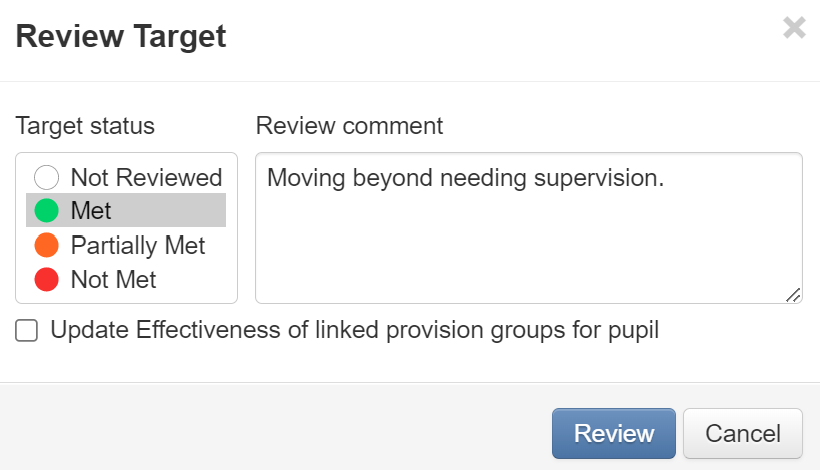 If you have linked a provision group for a target, when you add a review outcome, it can also add the equivalent effectiveness review to the provision group for that pupil. If a pupil has any linked provision groups, a tick box will appear in the review box. If ticked, the assessment will also be added to any linked groups. For example, adding a review of Partially Met will add Partially Effective to the provision group.
Deleting a Learning Plan
If a Learning Plan has been created in error, or maybe as a practice, you may want to delete the plan completely.
Any pupil with archived plans will have a Past Plans button, under which any archived plans will be accessible.

Choose the plan you want to delete to open it on screen.

A Delete button will now be available to permanently delete the Learning Plan.
---
---