How to sync pupil contextual data from your MIS
By far the most efficient way to keep your pupils up to date, in Insight, is via an automatic sync with your Management Information System (MIS).
This guide details how to get the sync up and running and some other key details about what this function provides.
What does the MIS sync do?
The MIS sync keeps your pupils, and their associated contextual data (for example, attendance and SEN status) up to date. So the data held in your MIS will always match that in Insight.
The sync runs daily, overnight, so changes you make in your MIS will not immediately appear, but they should be there by the next working day.
What does the MIS sync not do?
The MIS sync does not synchronise any assessment data. So any statutory assessments, such as Key Stage Two SATs or Year One Phonics Check, will need to be imported or entered in Insight (then exported if required).
The MIS Sync is not a two-way sync, so any changes you make directly in Insight will not sync back to your MIS. For this reason, if you're using the MIS sync, changes to pupil contextual data should always be made in your MIS, and allowed to cascade through to Insight. If you change data in Insight, for example a pupil SEN status, it will be returned to the value in your MIS when the sync next runs.
How to set up MIS sync
Insight have chosen Wonde as the MIS sync service provider. Wonde provides a secure and robust data transfer method. For more information, please see their security documents.
To use Wonde, you will need to request the connection.
An Admin user should open the Admin page in Insight and choose Manage Pupils, then click the Update Pupils button.
You'll see the import options. Choose Wonde.

On the next page you should complete the contact details for the person, in school, that Wonde will contact to authorise and set up the link. This should be a member of staff with authority over, and access to, the school MIS.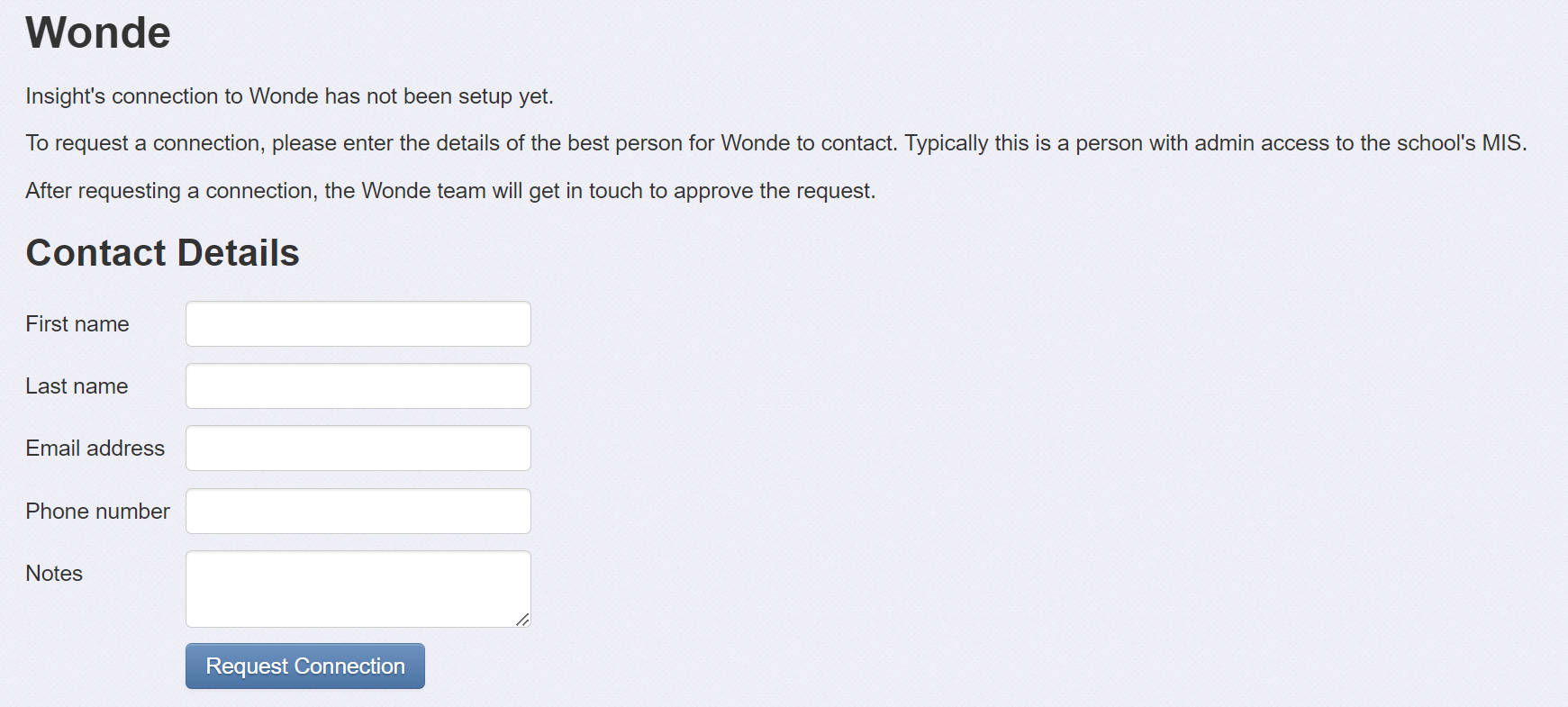 Thousands of schools already have Wonde in place and, if you are one of them, all that will be required is a simple approval in your Wonde Portal. You may see the Insight Tracking application pending within your Wonde portal.
If you don't already have Wonde in your school, the Wonde team will be in touch to complete the connection.
And that's it. Once set up, we will begin syncing your MIS data, and you don't need to do anything else.
Managing the connection
Once up and running, the Wonde page in Insight will give you access to settings, and also display any sync issues where appropriate.

Sync Settings shows a number of options. It is recommended that these settings are only altered to address identified problems under guidance from Insight support.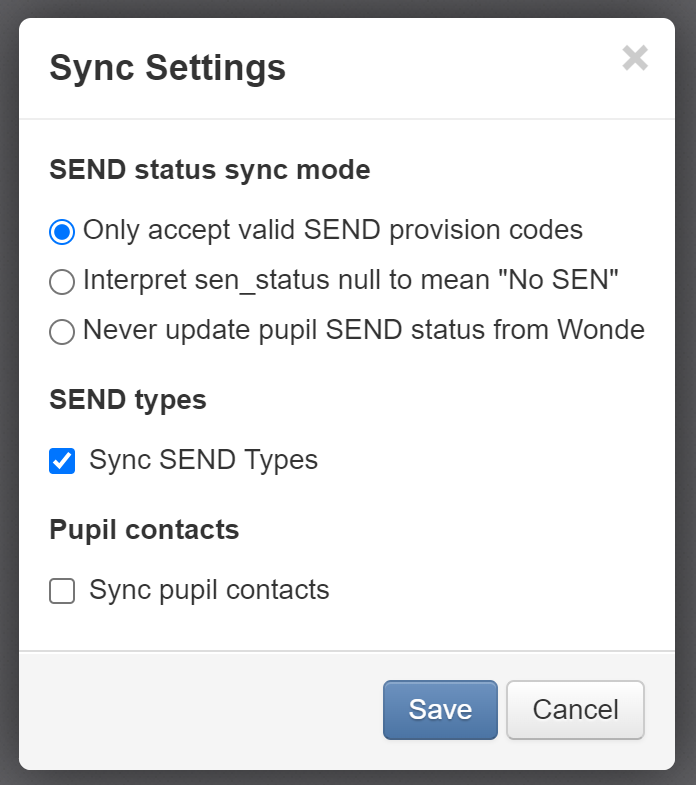 Permissions displays the Wonde Permissions Insight requires for some optional features to work and whether these permissions are currently granted in your Wonde portal.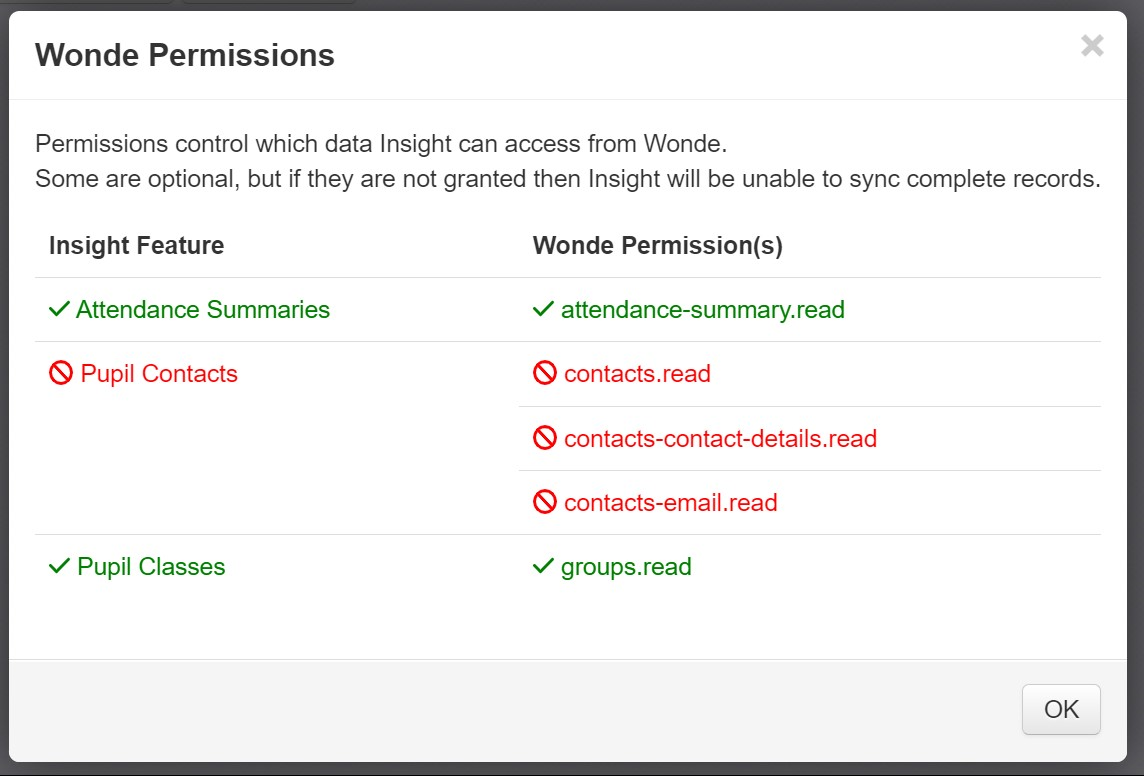 Any denied permissions will need granting if you wish to make use of those features in Insight.
Is there an additional cost for the MIS sync?
No. The additional cost is covered by Insight, so it is free to you.
Sync pause over the school summer holidays
To ensure any analysis you perform over the summer break is consistent, Insight pauses the MIS sync from the end of July until the 1st September, if you have term dates saved. If your term dates are missing, Insight will not begin syncing in the new academic year. See our end of year rollover guide for more details.
---
---