Import Pupils and Assessment Data into Insight
We recommend updating your pupil contextual data via MIS sync where possible.
For statutory assessment data (EYFSP, Phonics, MTC, SATs) you can export them from your MIS and import them into Insight.
For Key Stage 2 scaled scores, you can also download the file from the Primary Assessment Gateway and import it directly into Insight.
If you do not use MIS sync, you can also use Insight's Update Pupils process to:
Import new pupils
Archive pupils who've left the school
Update FSM, Pupil Premium and SEN records
Update contextual pupil information such as Ethnicity
Update your classes / registration groups
Import statutory assessment data - (CTF only)
Update attendance records (CTF only)
Common Transfer Files (CTF) Common Transfer Files (CTF) can include detailed attendance, FSM and SEN information as well as statutory assessment data. This guide describes the process using a CTF as the preferred method. If you aren't able to generate a CTF, you can also import pupils from an Excel spreadsheet.
1. Export a CTF from your MIS
You'll need to export a CTF from your MIS containing the pupils you want to update (usually all pupils on roll) and save it on your computer.
If you're using SIMS or RM Integris, skip to one of the guides below for details on how to export your CTF and then import it into Insight:
Import Pupils & Data from SIMS »
Import Pupils & Data from RM Integris »
Please follow the links below to be directed to the relevant external MIS help guides on exporting a CTF:
If you're using another MIS and need help exporting your CTF, please contact your MIS provider for assistance.
2. Import your CTF into Insight
Navigate to the Admin, via the Account menu page and choose Manage Pupils:
Click Update Pupils:

Click CTF: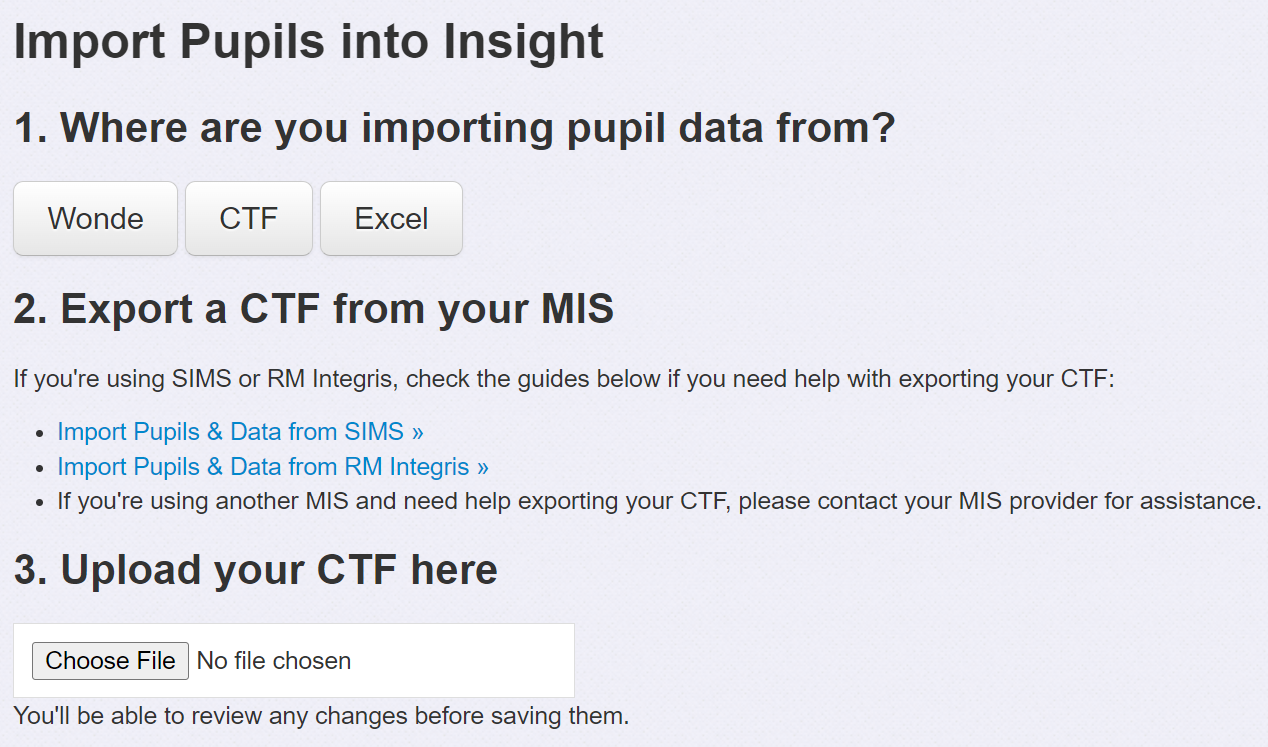 Click the Choose file button. Navigate to the CTF you exported to your computer (you're looking for a filename that ends with .xml) and click Open:
Insight will read and check the file, then give you the opportunity to review the changes that will be made. Insight will show which pupils will be added, updated and archived (if any):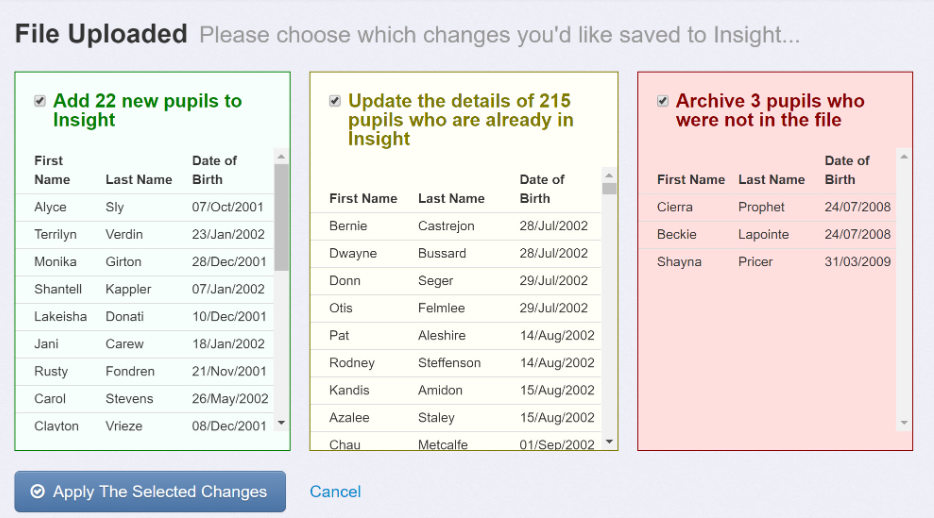 You can choose not to apply a set of changes by un-ticking in the appropriate box:
When you're ready, click Apply the Selected Changes to finish.
Once the CTF has been imported into Insight you can delete it from your computer.
3. Import your Classes (optional)
CTFs don't include class information, so if you're not syncing with your MIS and want to track classes, you'll need to import this information separately. Click Update Classes to get started and follow the on-screen instructions.
---
---