End of year rollover
Insight automatically rolls over to the next academic year on 1st September. This means that all your pupils will automatically move up to the next year group.
To ensure a smooth transition to the new year, you should check that your term dates are correct in Insight. This guide details how to do that, plus a few other things that may be worth reviewing before the Summer break.
Before the end of the Summer term:
Term Dates
It is advised to check that your term dates are present and correct for the upcoming year. Incorrect dates can result in certain pupil contextual data, such as class or SEN, being applied to the wrong year group.
Admin users can see, and amend, term dates by visiting Account > Admin > Change School Settings > Term Dates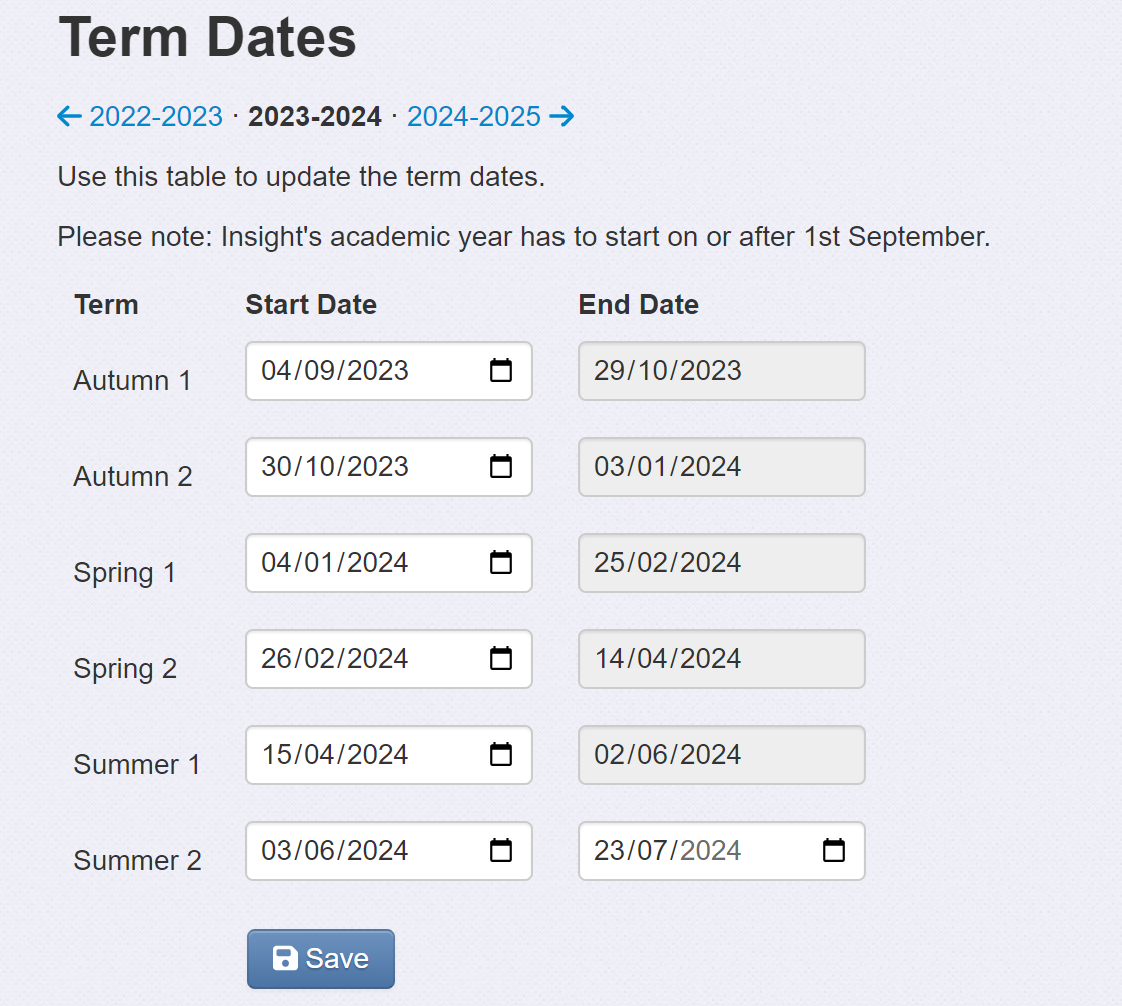 Term dates should be inclusive of any non-pupil days. For example, if the 4th September is the first day back after the summer break and is a staff training day, with pupils returning on the 5th, then the 4th is the first day of term.
Syncing will begin on the 1st September, but only if you have saved term dates for the new academic year. Syncing will remain paused until the dates have been entered.
Pupils leaving your school
The leaving dates for pupils leaving your school need to be on, or after, the Summer term End Date.
If a leaving date is before the End Date, then this will count as leaving in the current year, affecting your ability to include those pupils in any analysis.
In short, ensure your last day of the summer term matches the date you give to a leaving cohort in your MIS.
For example, if your school is a Primary school and your year 6 leavers have a leaving date of 20th July, with the Summer Term End Date set to the 23rd July, then those pupils will not be available in reports etc. without using the On Roll As Of... filter.
After September 1st:
Update pupils and their contextual data
If you're using Wonde, syncing will be paused over summer, then your pupils will update automatically, including their new classes.
The summer pause is to ensure any changes (for example to classes) made in your MIS before the beginning of the autumn term do not sync through to Insight and affect the data for the current academic year.
If you're not using the MIS sync you can import data in the usual way, to update your pupil details, archive any leavers and assign your new classes. Make sure you do this after 1st September.
Check your staff list
Administrators can add new staff and make sure any leavers have been removed at Account > Admin > Manage Staff
---
---