Managing Attendance
Updating attendance information via CTF 
Pupil attendance information is managed in Insight via your MIS / CTF data uploads, both when the files are initially uploaded into Insight, and throughout the year whenever CTF files are uploaded. 
To ensure that your attendance information is kept up to date and is complete, we recommend that you update your CTF files on a regular basis, as this will allow accurate reporting when assessing pupils attendance against performance. 
If you're using SIMS, your attendance records for the current and past academic years first need to be completed right up to the date you create your CTF, otherwise your CTF may  not include attendance records for those years with missing information. 

This is the case even if you change the run date when generating your CTF.

In addition, please ensure "Collect Attendance Data From" in section 3 is set to "SIMS Attendance Module".
Manually updating a pupil's attendance records
If there are individual amends that you would like to make to attendance records, it is also possible to manually update a pupil's file. Select Pupils from the menu bar, or search for the pupil by name in the search bar:

Scroll down to the Attendance section: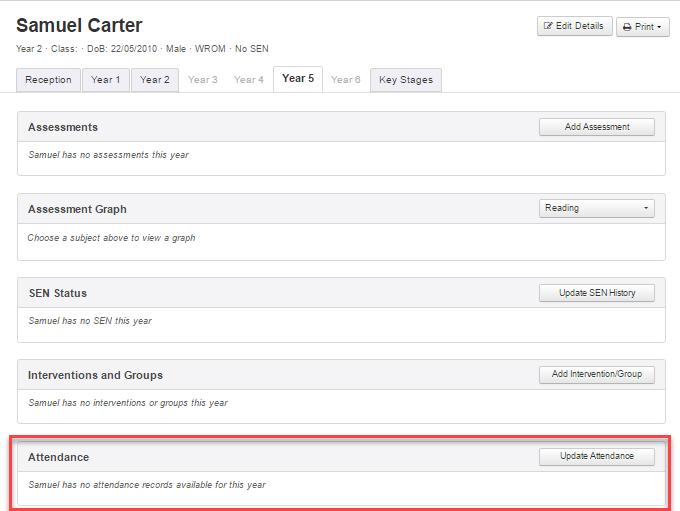 Click Update Attendance and this will allow you to manually update attendance information for the pupil.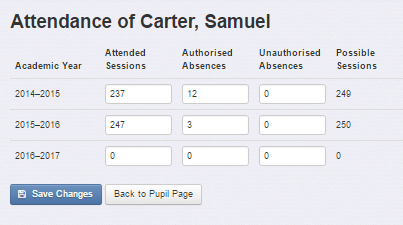 Viewing attendance information 
Pupil Attendance Information can be viewed either on individual pupil pages, by selecting Pupils from the menubar, or searching for the pupil by name in the search: 

Once you open up the pupil's page, scroll down until you see the attendance section. This will give an overview of the pupil's attendance record and authorised/non-authorised absences. If the pupil has over 90% attendance, the data will appear as green. Persistent absence* (any attendance less than 90%) will show as red. 

*In September 2015, a revised persistent absence measure was introduced where a pupil enrolment is classified as a persistent absentee if they miss 10 per cent or more of their own possible sessions
Creating an attendance report 
Select Cohorts and then Tables from the main menu:

This will bring up the selection criteria for creating your table. Select the academic year, the year group, and additional filter groups, such as gender, Pupil Premium etc and which attendance filter you would like to apply. More information on filters and grouping can be found within our Choosing and Comparing Pupils: The Basics help guide. 

You then have the option to add additional reporting criteria to the table, by selecting Edit Table and then Add Column from the dropdown selection list: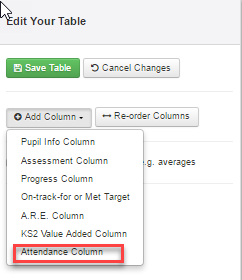 When prompted, select year groups or academic years for your report and click Add Column to Table when the selection is complete: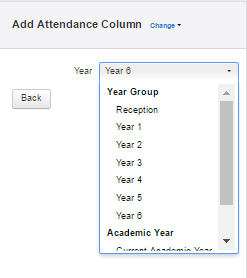 This will then generate your report. In the example below, a table has been created to show attendance levels for Years 3 and 5 pupils, with their Autumn2 Reading Average Depth.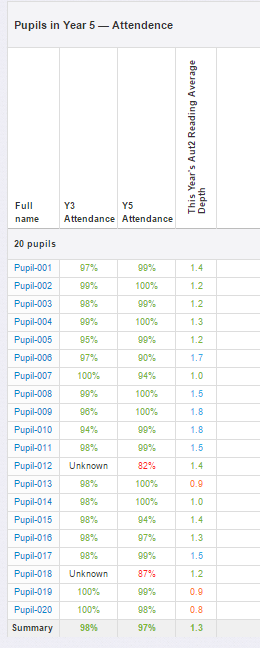 ---
---