Parent Reports - Downloading (pre release feature guide)
This guide is for a new feature, currently being trialled. See our parent report guides for the current functionality.
This guide details how to download parent reports to share with parents/carers. It assumes your reports are all complete and ready to share. See our other parent report guides if you need support preparing and writing your reports.
Downloading a cohort's reports
More often than not, you'll want to download a whole class's reports in one go. Or office staff may wish to download reports for the entire school.
Navigate to Reports > Parent Reports to get started.
Use the filter options at the top of the page to select the relevant pupils.
Then use the additional options to select the Report Academic Year, Term and Template you want to generate reports from. Use the Status filter to just show approved reports, if using this facility.
Click a pupil name to see what their report will look like.
If you see a warning about Invalid Placeholders, see our
template guide
on how this can be resolved.
Once you're satisfied that the displayed reports are ready, click Download.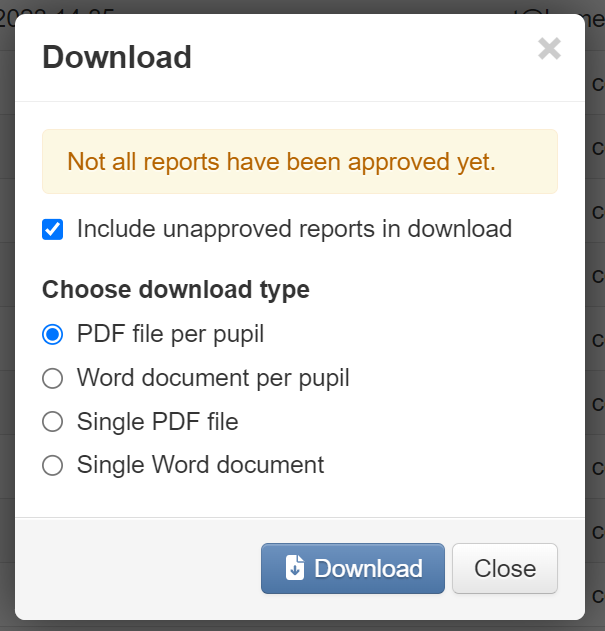 If your list includes reports that have not been approved, you will be informed of this. By default, the download will include unapproved reports but removing the tick will exclude them.
The Download options allow you to choose between a PDF or Word file. You can also choose a Single file, which will include all the reports, or Per Pupil files, which will generate a separate file for each pupil (the per pupil files will use any filename options that have been set).
Generating reports can take Insight a little while, especially for large pupil numbers.
---
---