How to record the Phonics Screening Check
If you import pupils and data into Insight via a CTF from your MIS, Insight will automatically import any historical Phonics screening check data held there.
Insight imports these assessments under the subject Phonics.
The score is imported using the assessment name Main Assessment and the mark scheme Phonics Scores (0-40).
The outcome is imported using the assessment name Outcome and the mark scheme Phonics Outcome.
When it comes to entering the results of new Phonics screening checks, it's best to follow the same structure above. This means you'll be able to export your Phonics data back into your MIS, and then onto the LA.
Entering Phonics Scores
To enter this year's Phonics Screening Check scores, go to Enter Data > Statutory Assessments >  Phonics Screening Check.
This brings you to a page where you can enter scores for your Year 1 pupils, and for any Y2 pupils who didn't pass the check in Y1.

For pupils who don't have a score, you can enter the appropriate code (A, D, L or Q):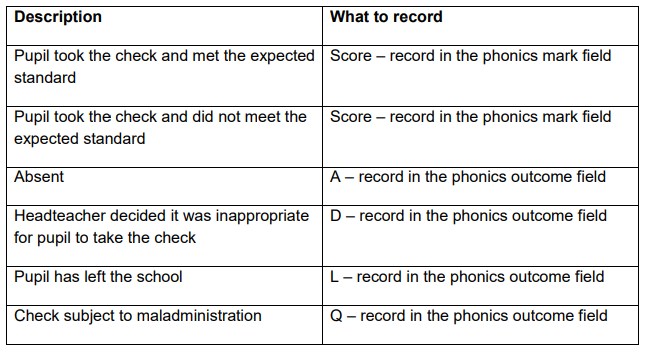 Entering Phonics Outcomes

You shouldn't need to enter the outcome as well, since Insight will evaluate pupils' scores based on the pass mark. You should be able to carry out all the analysis needed using the scores alone.

Reporting Phonics data to parents
Once your data's in Insight, you can generate a simple Phonics Screening Check report for parents by going to Cohorts > Parent Reports > Phonics.
---
---