Sending historic data files for processing
We know that changing software can be stressful. As part of your trial, we're here to help you get started by transferring your historical summative assessments and curriculum objectives where possible. This is a completely free service, but there are a few caveats on what we're able to do. Please read below for advice on required file formats, processing timeframes, etc.
Timeframes
Provided your pupils are loaded into Insight, our dedicated data processing team usually process all data files within 2 weeks of receiving them. If you're waiting on setting up the Assembly or Wonde MIS sync, it's worth importing a CTF of pupils initially so that we can get started on your data.
Checking your data
We'll send you an email to let you know when we've finished processing any files you send us. Please check everything through carefully in Insight.
By default, we keep your uploaded files for 12 months - in our experience this gives us a good window for cross-checking in the event of queries about what we've imported (eg concerns about missed files, etc). If you want to delete files sooner, your Admin users can do so at Admin > Uploaded Files.
Summative assessment data
We can import most of your historical summative assessment data. To help us process your files as quickly as possible, here are some helpful pointers:
Check that the files contain children's full names or UPNs.
Unfortunately we can't process data from PDF files or from images such as JPEG files. There's no easy way for us to lift data from these types of files – Excel or Word documents are the preferred format.
Check that your files are unprotected, and if we need a password to open them, be sure to let us know what it is.
Remember to send us a key or reference guide if the data uses coloured cells instead of marks.
Do check that your files are clearly labelled with the year groups, subjects and terms the data relates to.
Please don't send us any formative assessment files. Unfortunately we don't have an easy way of importing this type of data into Insight. We usually find that if teachers are happy to assess where children are for the current term, you usually don't need the historical objective data transferred across (as long as you have a copy of it somewhere).
If you have lots of files to send, it's easiest to select them all and create a zip file. You can then upload that one file to us - much quicker!
Curriculum Objectives
If you plan to assess any curriculum objectives/statements/KPIs in Insight we can usually import these as well (objective tracking is optional, and requires Insight Plus). We can transfer statements from Word, Excel or some PDFs.
Are you using a standard set of statements? We have the National Curriculum, Assessment Framework, Development Matters and other pre-processed objective sets ready for schools to use. Unless you have a custom version of these, there's probably no need for you to upload your files - just let us know what you're assessing.
How to send your files
During your free trial, log into Insight and look for section 4. Upload Historic Data and Objectives on the Home screen instructions. Here you can upload files and add comments/notes if needed: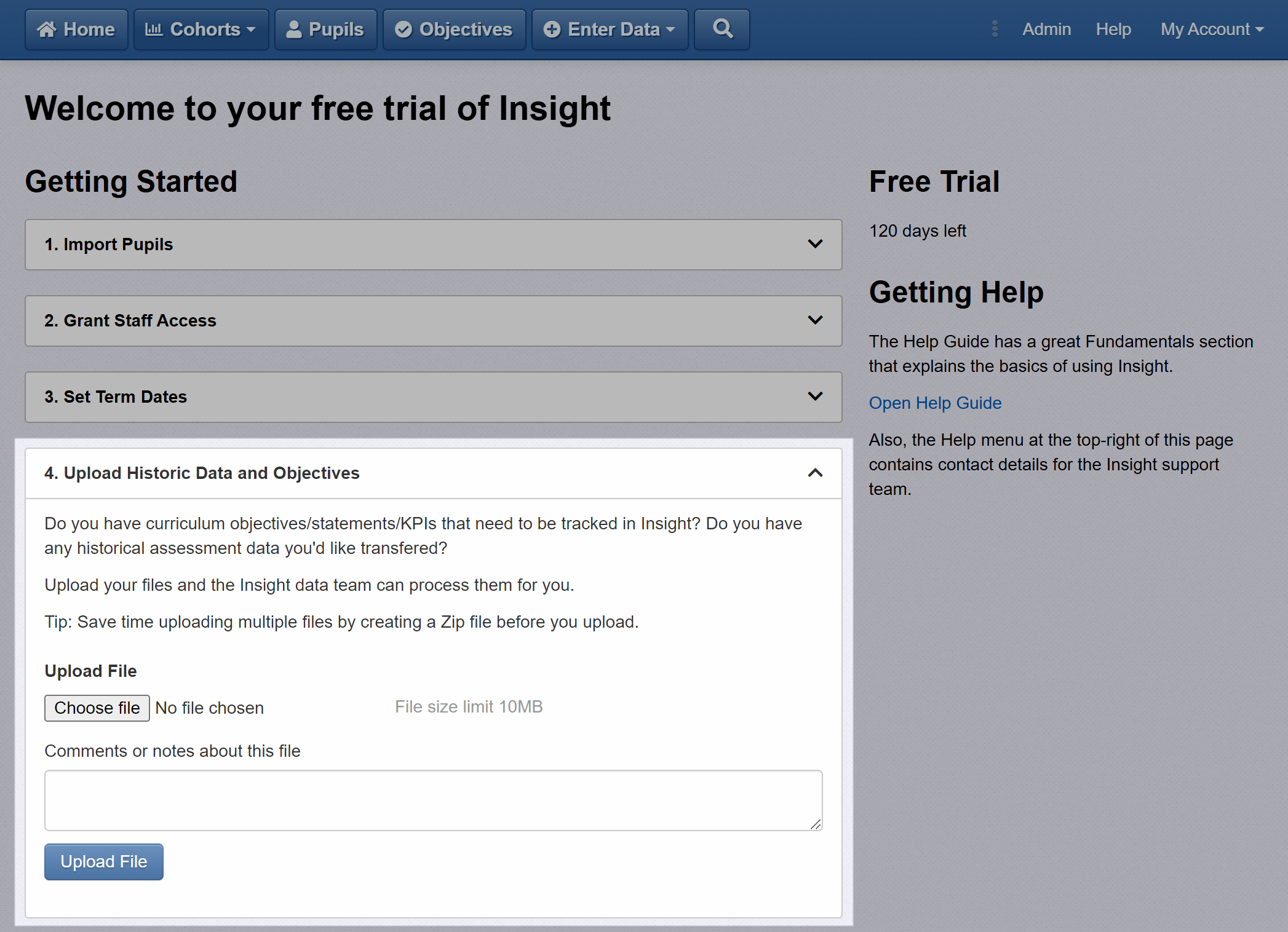 If you're already out of your trial, you can click the Help menu to send files to the support team. Please note that we're only able to offer processing of historical assessment data. Once that's all in, your staff can put future assessments straight into Insight. If you're changing objective statements, we're happy to help with at any point since it can be a little fiddly.
---
---