Suggestions for Insight users with visual impairments
Using Insight with Visual Impairments
One option for people with visual impairments or accessibility issues is to try a browser extension. Some users who struggled with the colour-coding in Insight have found them extremely helpful. There are add-ons available for Chrome from the webstore:
https://chrome.google.com/webstore/category/extensions
There are also lots of plug-ins available for the Firefox browser which have been popular with users. To download and install the browser visit https://www.mozilla.org/en-GB/firefox/new/
To find the extensions/add-ons click on the Open Applications Menu button in the top right of the screen:

Then choose Add-ons and themes: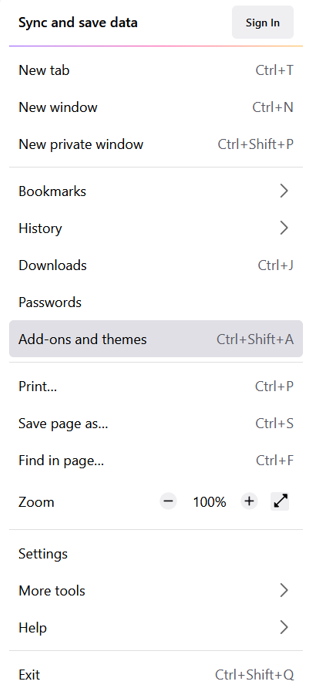 On the Extension Manager page either search for a specific add-on or impairment.

You can then download and install a suitable add-on but the user may have to decide what that is. One visual aid you could try is called Eye-Able (also available for Chrome):
https://addons.mozilla.org/en-GB/firefox/addon/eye-able/?utm_source=addons.mozilla.org&utm_medium=referral&utm_content=search
"Eye-Able® is a Chrome extension whose large variety of features allows you to customize any website according to your needs with one click. We want you to see every website exactly the way you need to. All people should have easy and barrier-free access to information on the internet."
Unfortunately we can't guarantee the performance or security of any add-ons with Insight but we are always keen to hear how all users get on. We welcome any feedback and suggestions!
---
---