Smartgrade
If your school or MAT is using Smartgrade for standardised assessments, then this data can be imported into Insight.
We currently have support for the Practice SATs, and others may be added later.
First, download a CSV file from Smartgrade's Bulk Export page.
To reduce the file size, and speed up the import process, be sure to deselect Question Level from the Result Type option.
Now log into Insight.
If importing for a single school, go to Enter Data > Third-party Data > Smartgrade.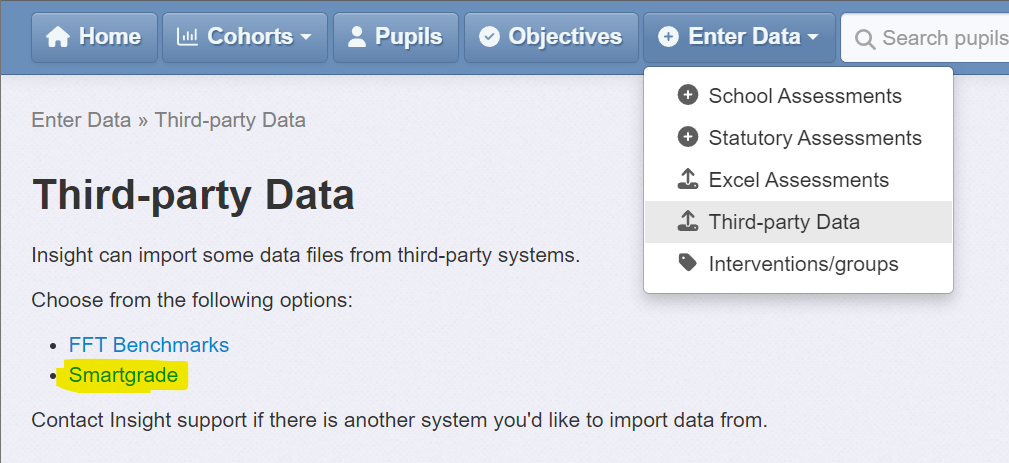 If importing for a MAT, from the Schools list page, click Smartgrade.
On the Import Smartgrade Assessments page, choose your CSV file and tick boxes for the types of results to import.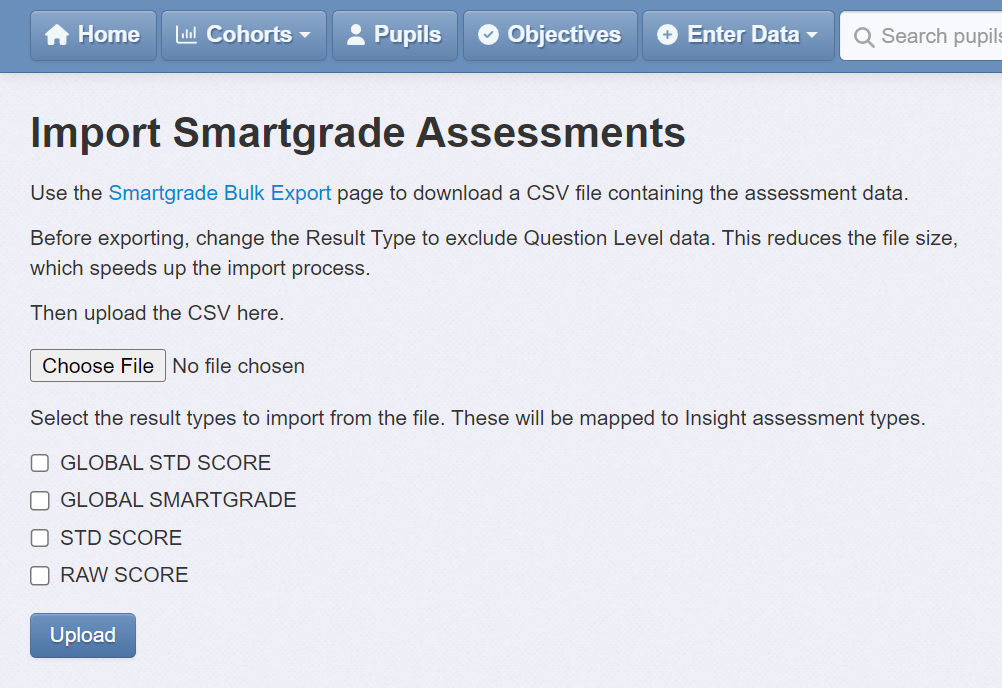 For Practice SATs, Smartgrade result types will be converted to Insight assessment names.
| | | |
| --- | --- | --- |
| Smartgrade Result Type | Insight Assessment Name | Insight Mark Scheme |
| GLOBAL STD SCORE | SG Practice SATs - Global Std Score | Standardised Score |
| GLOBAL SMARTGRADE | SG Practice SATs - Scaled Score | SAT Scaled Score |
| STD SCORE | SG Practice SATs - Internal Std Score | Standardised Score |
| RAW SCORE | SG Practice SATs - Raw Score | Raw Score e.g. 90/110 |
The next page displays a summary of what will be imported. Click Save Assessments and wait for the process to complete.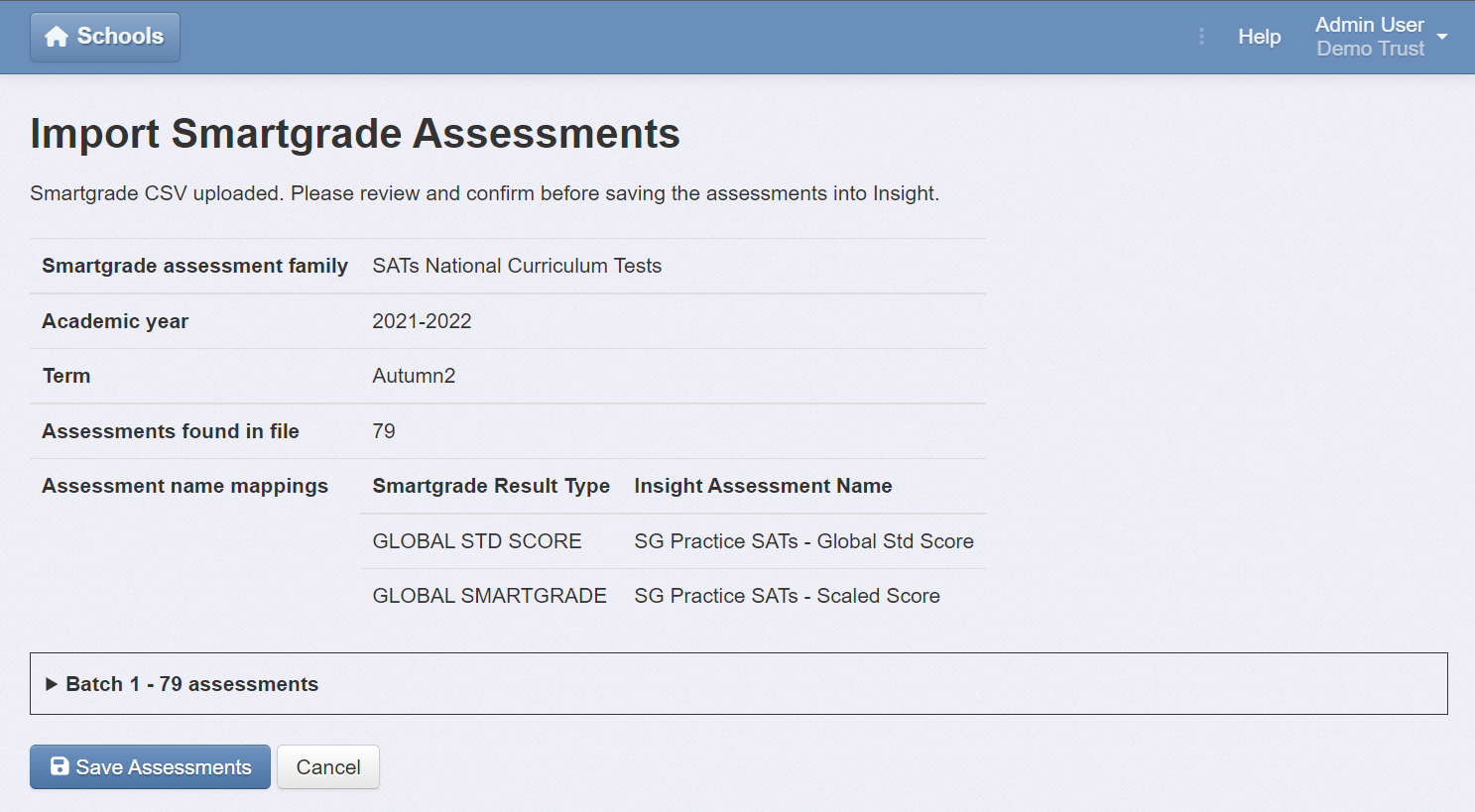 Potential problems reading the CSV file
Before saving assessments, Insight validates the data in the CSV file. Any problems are reported for you to review. In some cases, you can still click Save Assessments, but any problem data will be skipped.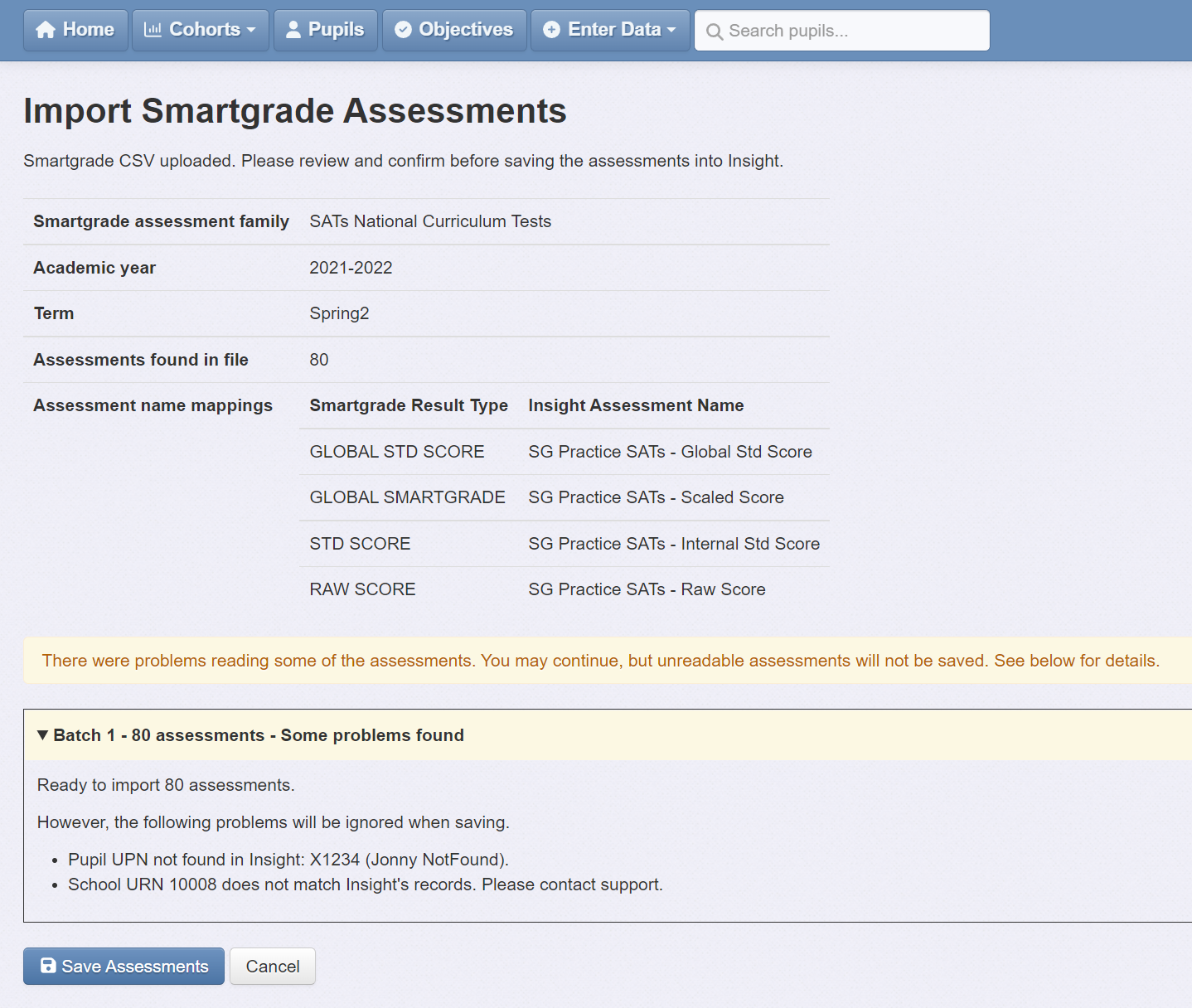 Insight uses the CSV file's School URN column to make sure you are importing data for the right schools. If a URN does not match Insight's records, then the assessment cannot be imported. Contact the Insight support team to correct the URN.
Pupils in the CSV file are matched by UPN against Insight's records. If a UPN is not found in Insight, then the assessment won't be imported. Contact Insight support for help with correcting UPNs.
If your school/MAT is only tracking assessments for whole terms in Insight, then you will be unable to import Smartgrade assessments for half-terms: Autumn 1, Spring 1 or Summer 1. The Insight support team can help with switching to half-termly tracking.
---