Parent Reports - Enter Comments and Download
This guide explains how to fill out and download/export your parent reports from Insight.
Looking for information on creating or changing report templates? Use
this guide
.
Entering Report Comments
You'll usually need to enter some comments to include alongside assessment data in a parent report - often a teacher's comment, but certain reports might include comments on pupils' achievements in individual subjects, targets for the coming year, or a headteacher's comment.
You'll choose a report template when writing your reports - that will determine which comments are needed according to what templates your school has created or customised.
To fill out your parent reports, navigate to the Pupils report in the top menu. At the top of the page, select the relevant pupils using the filter options. For example, you may just want to see your class.
You'll see a pupil's page has a tab called "Parent Reports". Click this tab to write and/or generate your reports:

Note this differs from an earlier version of the Parent Reports where comments were completed in the Parent Reports area of the Cohorts menu.
There are four functions on this tab: three dropdown menus to select Academic Year, Term, and Template; and a Download Report button to export the completed reports. When you choose a template, you may see one or more comment boxes to fill out.
Different comments can be entered for each Term, so make sure you have the right term selected from the dropdown (or click through to see earlier comments):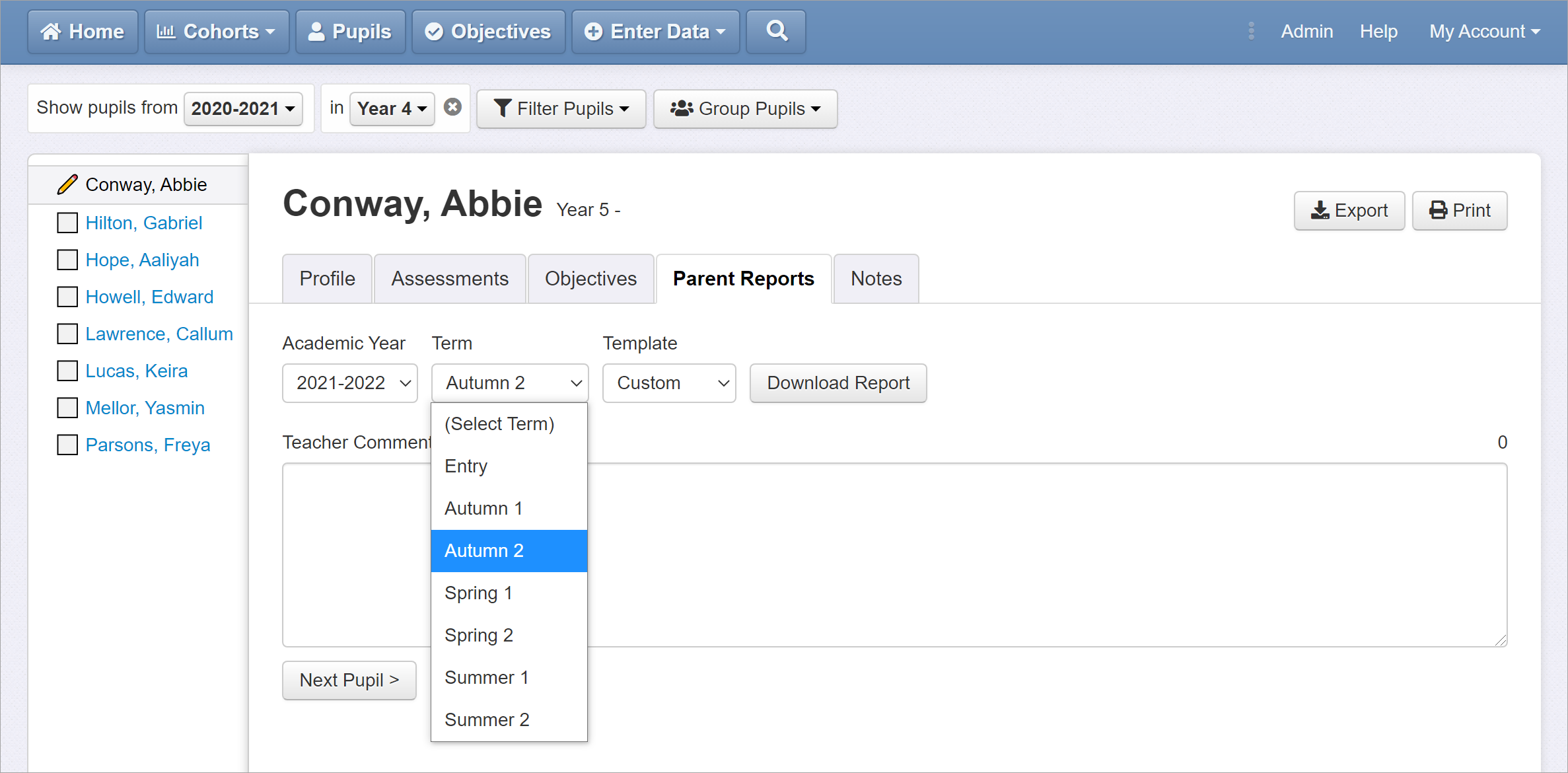 Click on the Template dropdown menu to see your report templates. Insight provides some preset templates, which may have been customised for your school. You might also see additional bespoke templates. For this example, we'll choose the "Custom" report: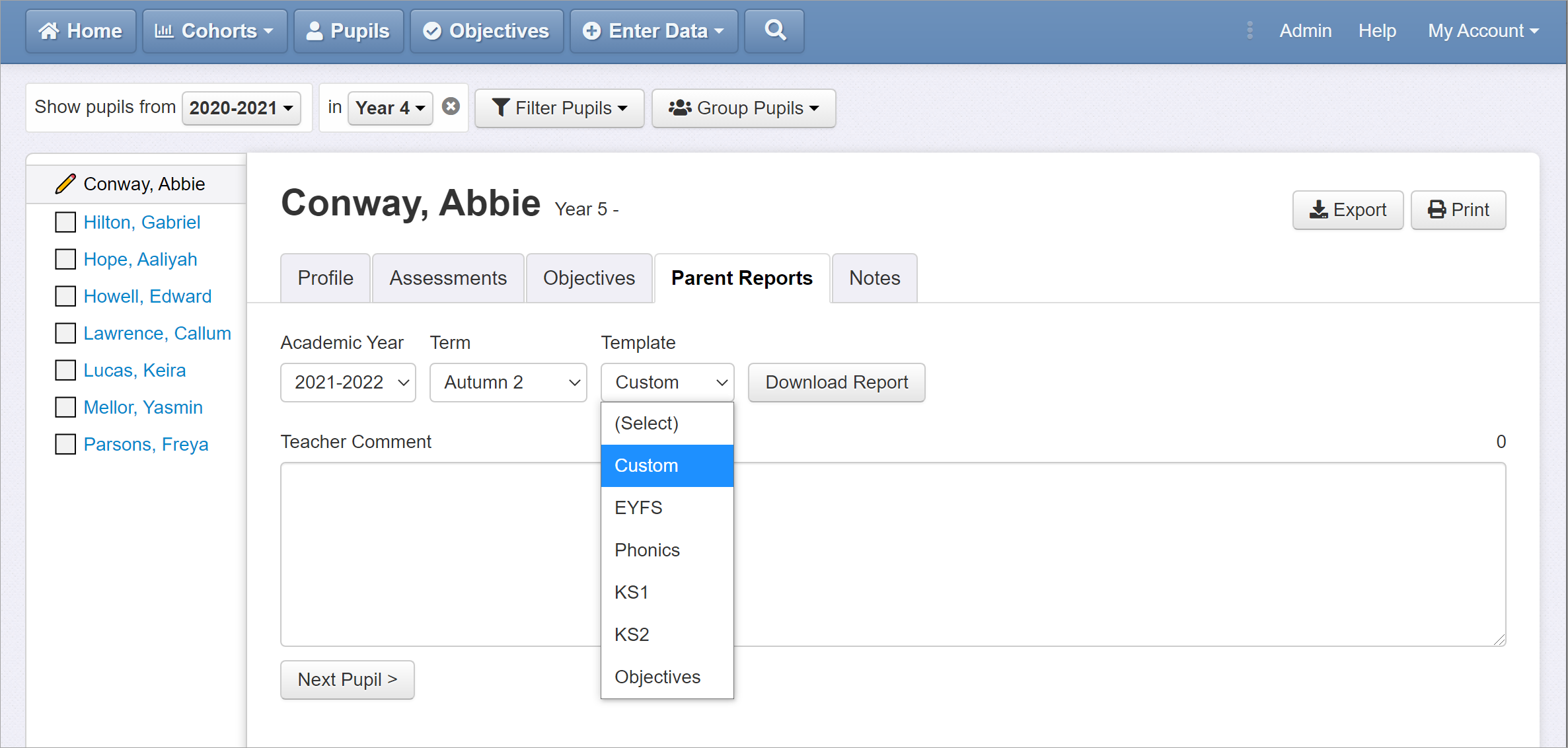 By default, the Custom template asks for a Teacher Comment, so you'll see a box to enter that. You may have other comment boxes to complete if your school has customised this template.
The first pupil in the list should be selected already, but you can click other names to open their comments.
Type your comments into each of the available boxes. Then click Next Pupil. Comments save automatically.
Repeat this process for each pupil.
Once all the comment boxes for a pupil are filled out, a green tick box appears next to their name. This makes it easy to see if anyone was missed out.
Downloading Reports
Downloading a single pupil's report
From the Pupils report page, you can click the Download Report button to download each pupil's report when it's ready. You'll see a preview of the report, and can choose whether to download as a PDF or Word document: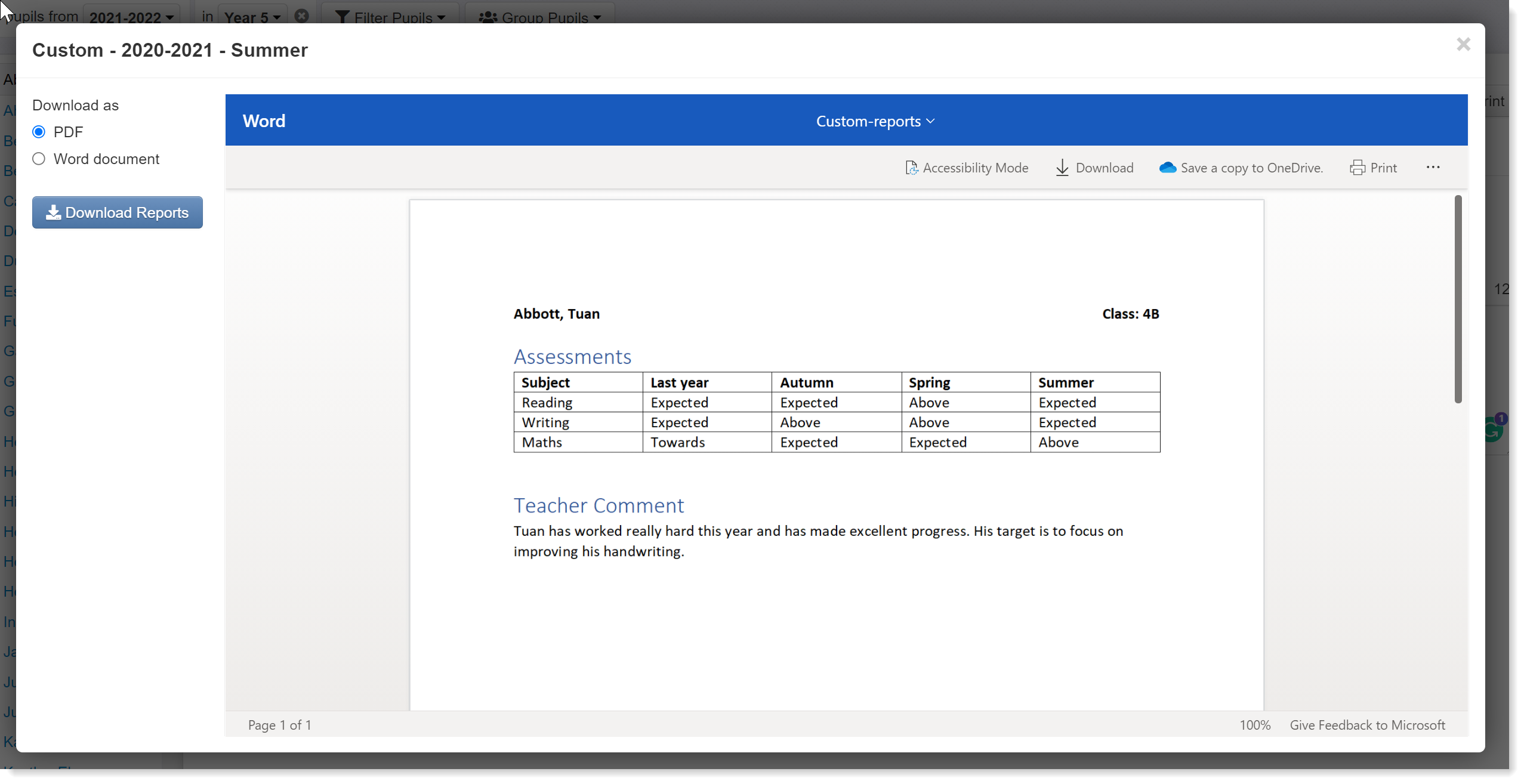 Downloading a cohort's reports
More often than not, you'll want to download a whole class's reports in one go. Or office staff may wish to download reports for the entire school.
Navigate to Cohorts > Parent Reports to get started.
Use the filter options at the top of the page to select the relevant pupils.
Then use the Configure Report options to select the Year, Term and Template you want to generate reports from. Click Preview Report to see what the reports will look like:

Finally, select what sort of file(s) you'd like to generate under the Download section and click Download Reports:

Generating reports can take Insight a little while, especially for big schools.
Please contact the Insight support team if you need any help.
---
---