Parent Reports - Enter Comments and Download
This guide explains how to complete and download your parent reports from Insight.
Looking for information on creating or changing report templates? Use
this guide
.
Entering Report Comments
You'll usually need to enter some comments to include alongside assessment data in a parent report - often a teacher's comment, but certain reports might include comments on pupils' achievements in individual subjects, targets for the coming year, or a headteacher's comment.
You'll choose a report template when writing your reports - that will determine which comments are needed according to what templates your school has created or customised.
To fill out your parent reports, navigate to Pupils and select the Parent Reports tab.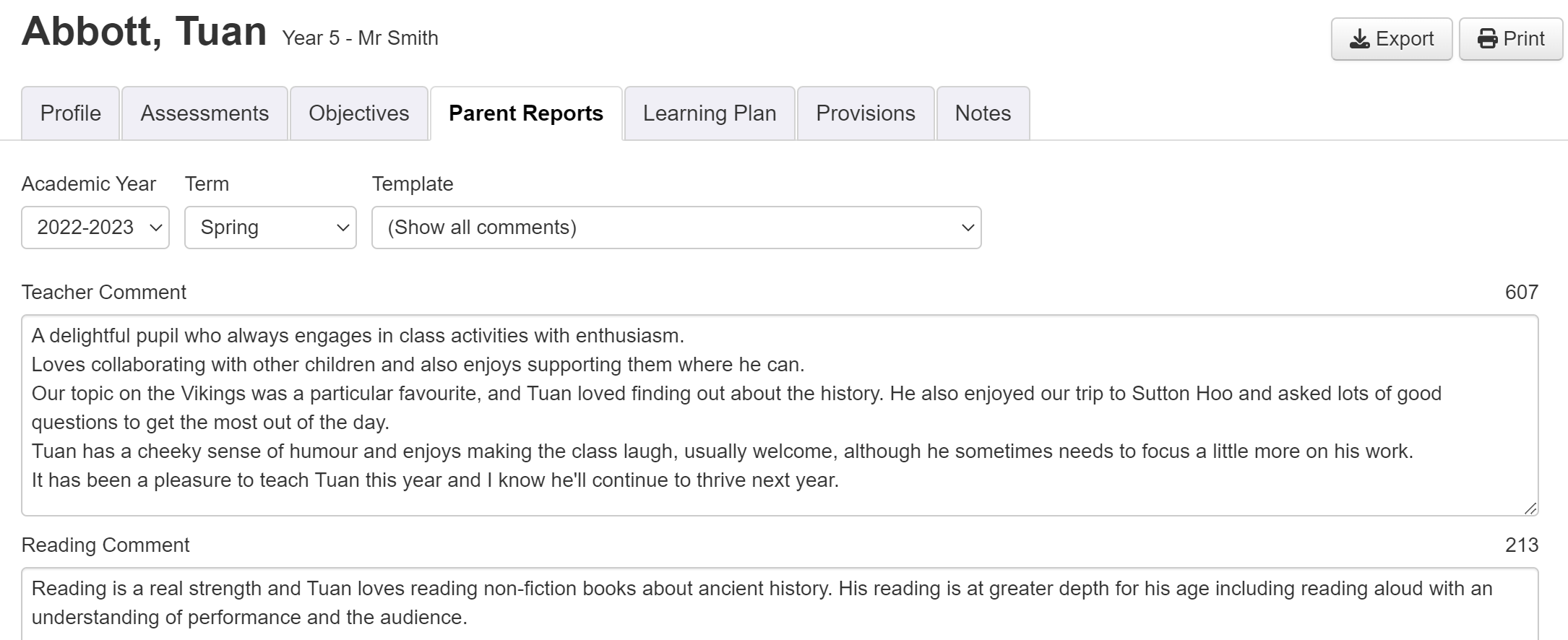 Initially, you'll see boxes for all the different comment types that have been added for your templates.
If you choose a template (and you may only have one) from the menu, the boxes will be restricted to only those that appear in the selected template.
By default, the current term and academic year will be displayed. Insight allows comments to be entered for each term, so be sure to select the one you want before adding comments.
The first pupil in the list should be selected already, but you can click other names to open their comments.
Simply click in the comment box and start typing to enter comments. As you type, the comment will automatically be saved.
If you want to indicate that the comments are finished, and ready to produce in the final parent report, you can tick the Comments Completed box. This will also add a green tick next to the pupil name in the main list, making it easy to see if all the comments have been completed.

When complete, you can click Next Pupil to move to the next pupil in the displayed list, or just click the pupil name.
Above each comment box, on the right, is the character count. This can be a useful way to manage how your parent reports look once produced as pdf or Word files. For example, if you know how many characters one of your boxes will take before it spills onto another page, you can ensure you don't go over that number.
Downloading a single pupil's report
From the Pupils page, Parent Reports tab, you can choose the required template then click the Download Report button to download each pupil's report when it's ready. You'll see a preview of the report, and can choose whether to download as a PDF or Word document.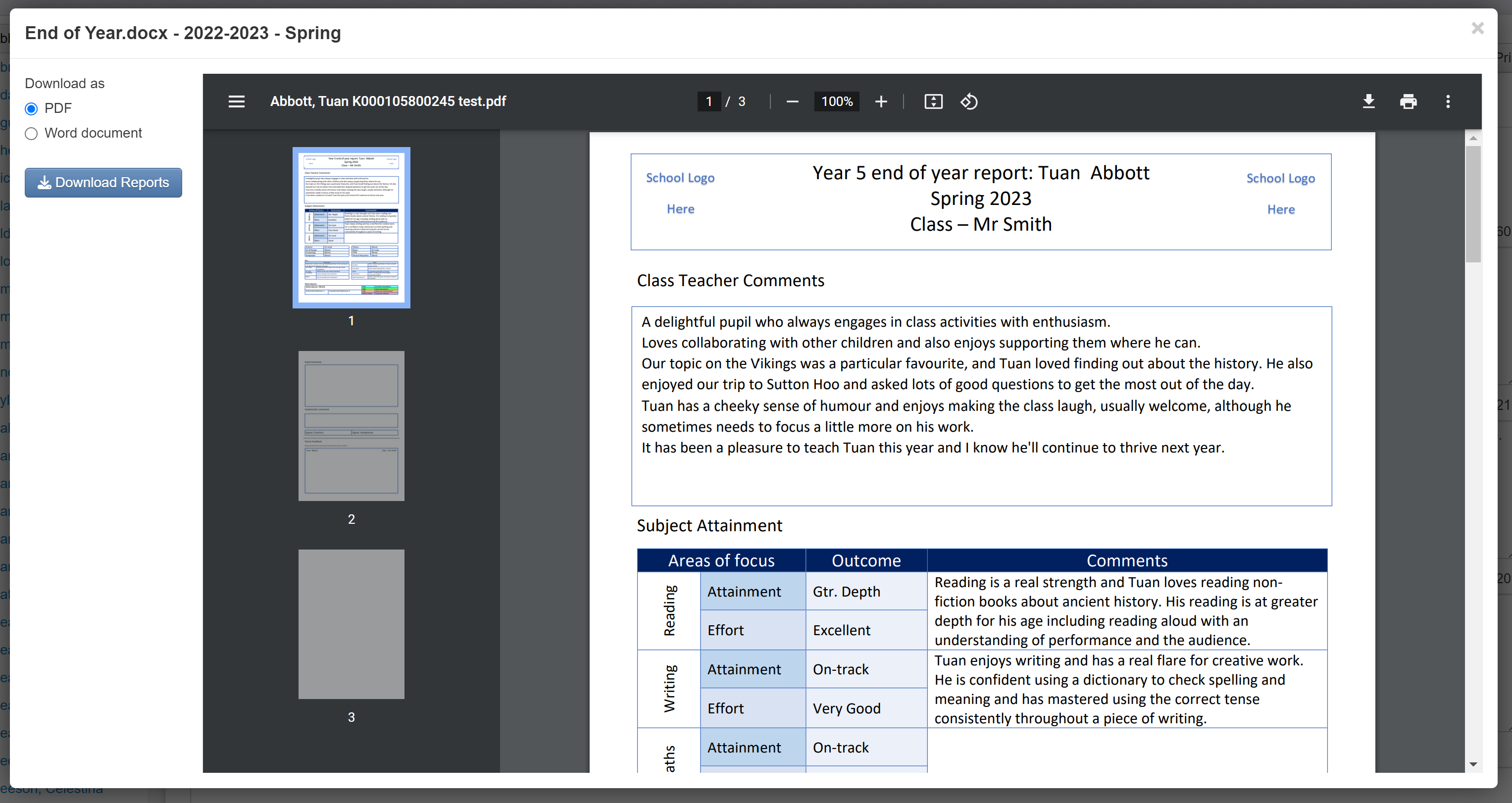 Downloading a cohort's reports
More often than not, you'll want to download a whole class's reports in one go. Or office staff may wish to download reports for the entire school.
Navigate to Reports > Parent Reports to get started.
Use the filter options at the top of the page to select the relevant pupils.
Then use the additional options to select the Year, Term and Template you want to generate reports from. Click a pupil name to see what their report will look like.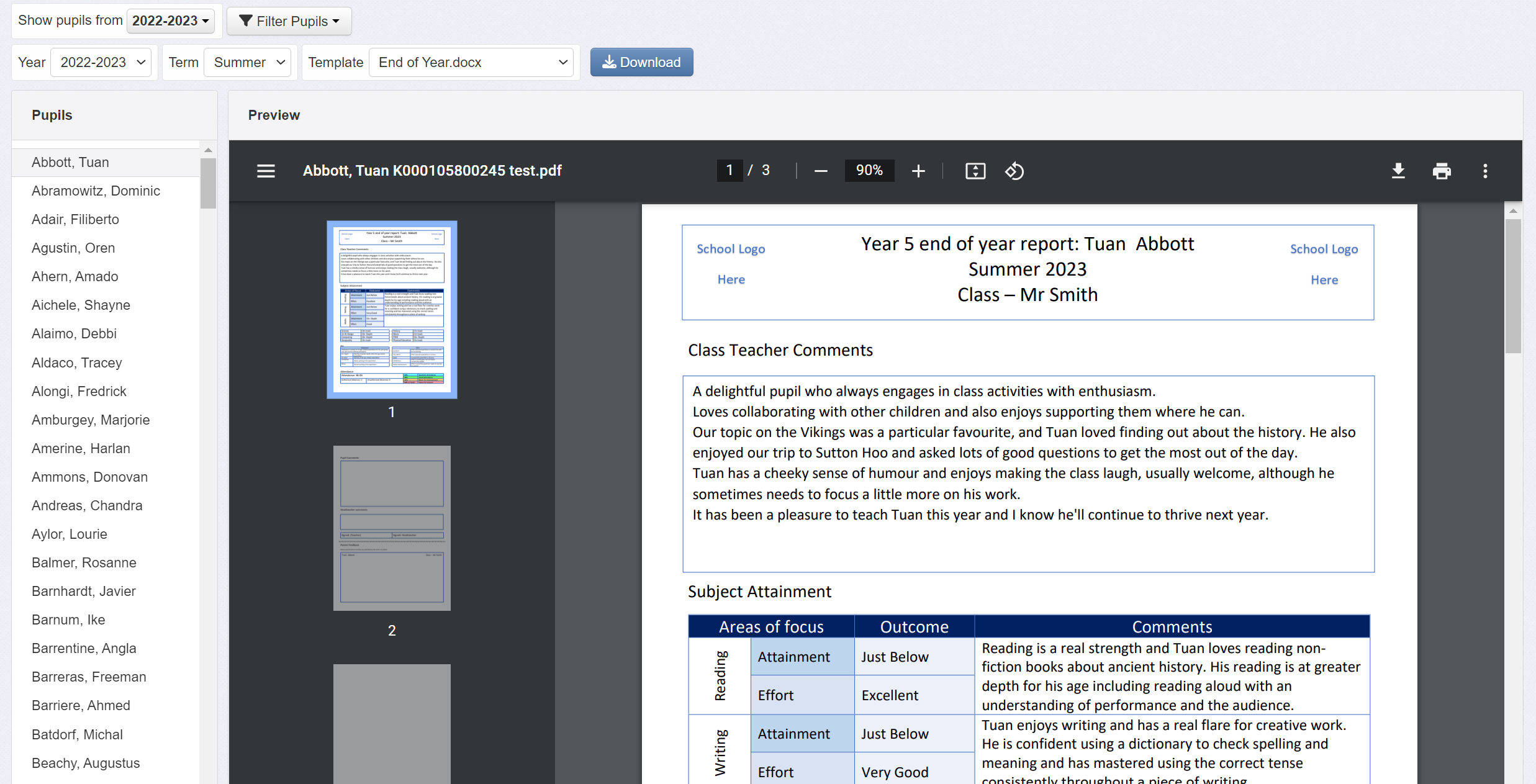 If you see a warning about Invalid Placeholders, see our
template guide
on how this can be resolved.
The Download options allow you to choose between a PDF of Word file. You can also choose a Single file, which will include all the reports, or Per Pupil files, which will generate a separate file for each pupil (the per pupil files will use any filename options that have been set).
You can also just download the report for the Selected pupil, the one you're currently previewing.
Formative Objectives in parent reports
Parent reports can include Objectives. Insight provides a report template for this, or you can add them to your own templates.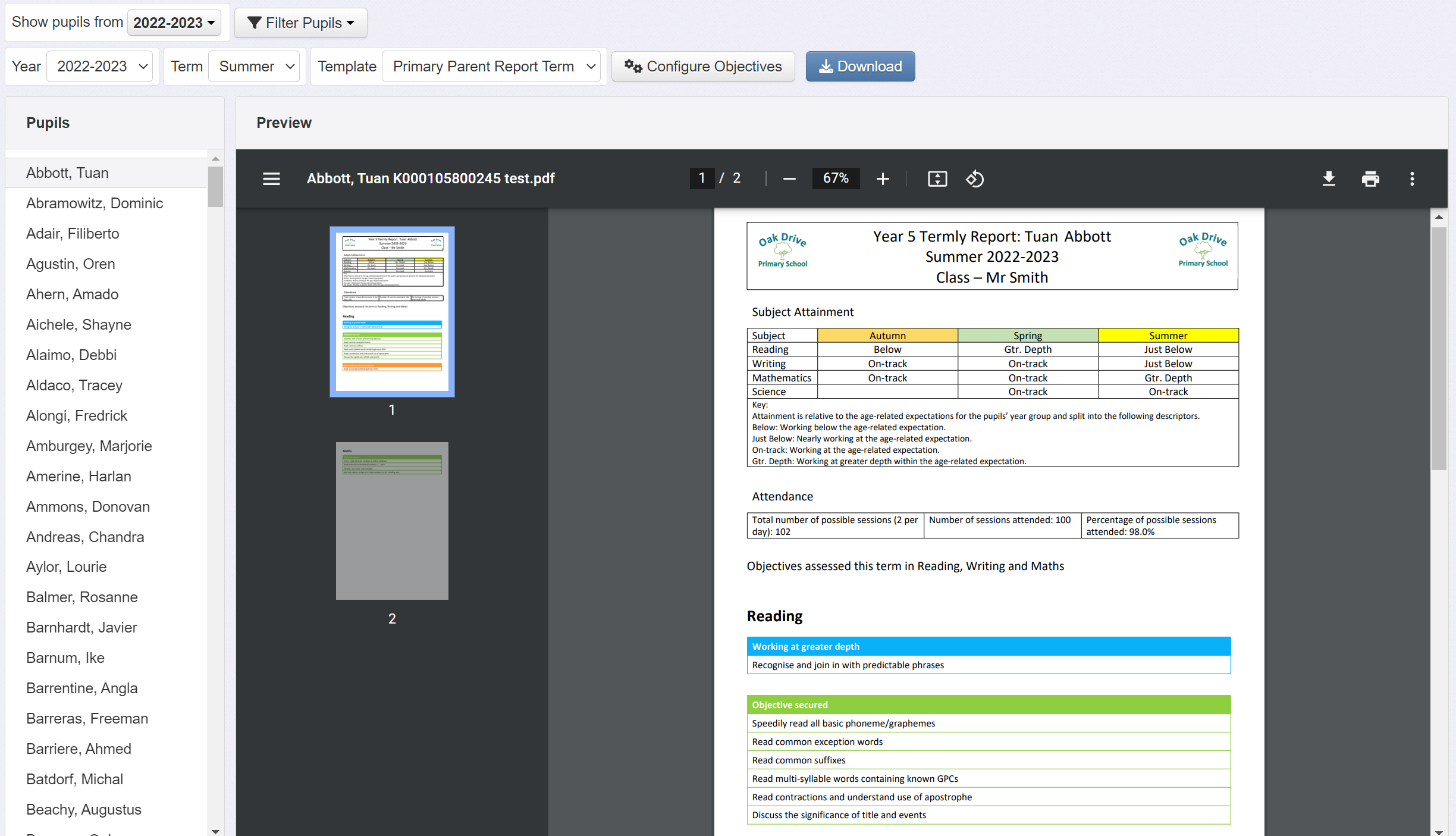 When you select a template with Objectives included, a Configure Objectives button will be available. Click this button to adjust the options.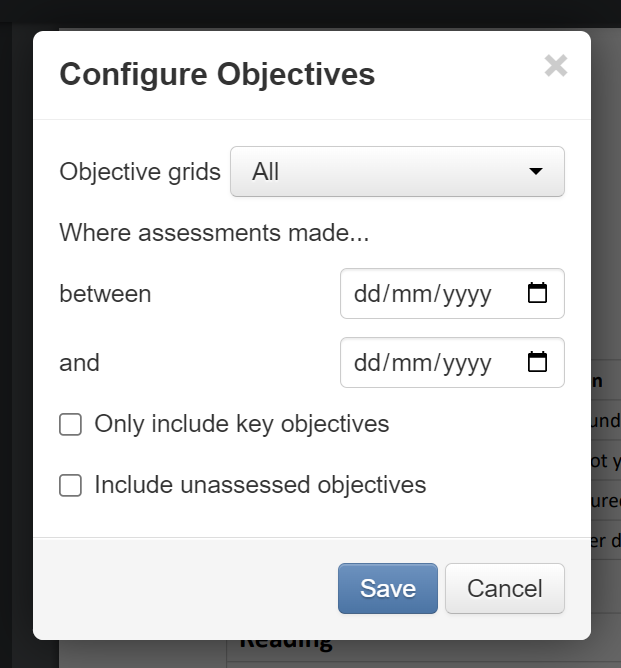 The Objective grids menu allows you to specify which grids to include in the report. Depending on how your school is set up, these will likely be the different subjects you're assessing objectives for. You can also specify these within the report template itself; for example, you might want the objectives for English to be separate from those for Maths, with some additional narrative in between.
The date ranges allow you to limit the objectives that are included. For example, you may only want objectives assessed in the current term. Leaving both blank will include all dates. Leaving one blank allows you to impose a single limit.
Ticking Only include key objectives will limit the included objectives to only those flagged as key objectives, if any.
Ticking Include unassessed objectives will also include objectives that have not been assessed. This can be useful if you want to perform a gap analysis exercise.
Generating reports can take Insight a little while, especially for large pupil numbers.
---
---