Provision mapping - setting up session-type provisions

This help guide will show you how to set up a list of session-type provisions in the new Provision Mapping tool, schedule sessions, assign pupils, and set costs.
In the previous help guide, we showed you how to create resource-type provisions. In this guide we will concentrate on session-type provisions. These will be timetabled periods of support for groups and individual pupils.
Setting up a session-type provision
As before, we need to click on the new Provisions button on the toolbar to access the provision mapping setup area.

This will reveal the main provisions window, which lists any provisions already created. Here, the resource-type provisions - iPads and Headphones - created in the previous help guide are shown.

Click on the Add new type of session link in Options box on right hand side (highlighted). You will then be prompted to enter a name for the session and an hourly cost. If there is no cost then enter a 0.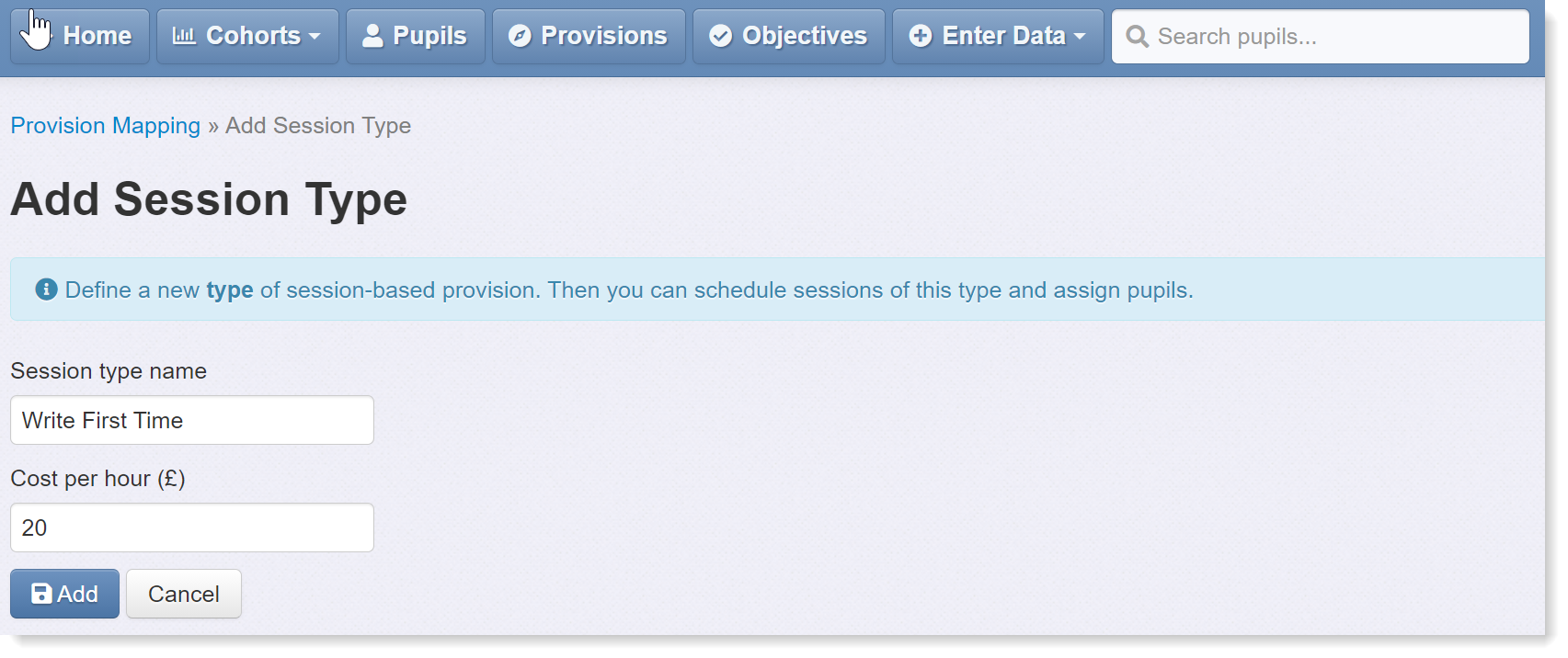 Here, we have created an intervention called 'Write First Time' with a cost of £20 per hour. Click Add button when done. This will lead on to the next step where you are prompted to create a schedule and assign pupils. Click on the green Add Schedule button.

This takes you to the session scheduling tool where you can timetable the provision and assign pupils.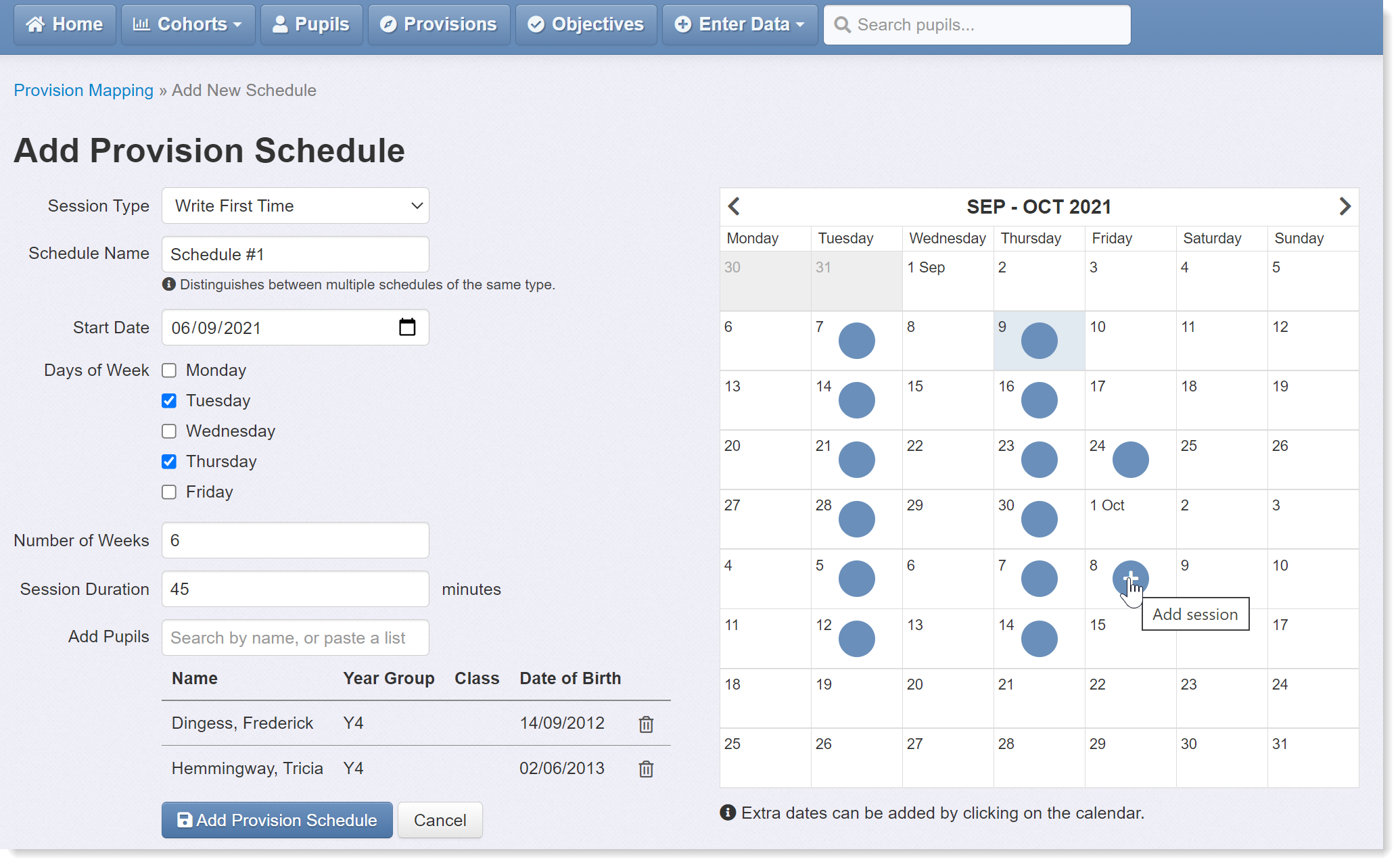 In this example, we have added a start date of 06/09/2021 and set 45 minute sessions to repeat every Tuesday and Thursday for 6 weeks. Note that two further ad hoc sessions have been added on Friday 24th Sept and 8th October. This is done by clicking on the day in the calendar. Sessions can be removed from the schedule in the same way. For example, the school may have an Inset day during the schedule. Pupils are added as normal: either enter initials and select from the pop-up list or copy and paste a list of names from an Insight table.
Note the schedule name Schedule #1. This is because it is the first instance of a schedule for this particular provision. You may have other schedules of this provision planned, for example you may run it on Mondays and Wednesdays for a different year group.
Once you have completed your schedule and assigned pupils, click the Add Provision Schedule button to save it. You will then be shown a summary of your scheduled session:

Note that you can edit or delete the schedule and add or pupils if required.
Now click on the Provisions button in the toolbar again or on the Provision Mapping link top right, just below the home button. This will take you back to the main Provision Mapping setup area.

Write First Time now appears in the list of provisions. We can either create a new type of session or resource to add to that list, or create another schedule of an existing provision. Let's do the latter by clicking on the Write First Time link.

We can see Schedule #1 we created earlier, which is due to run on Tuesdays and Thursdays. We could click on that link to edit it. To create another schedule of our Write First Time provision, click on the Add Schedule button again and repeat the process described above.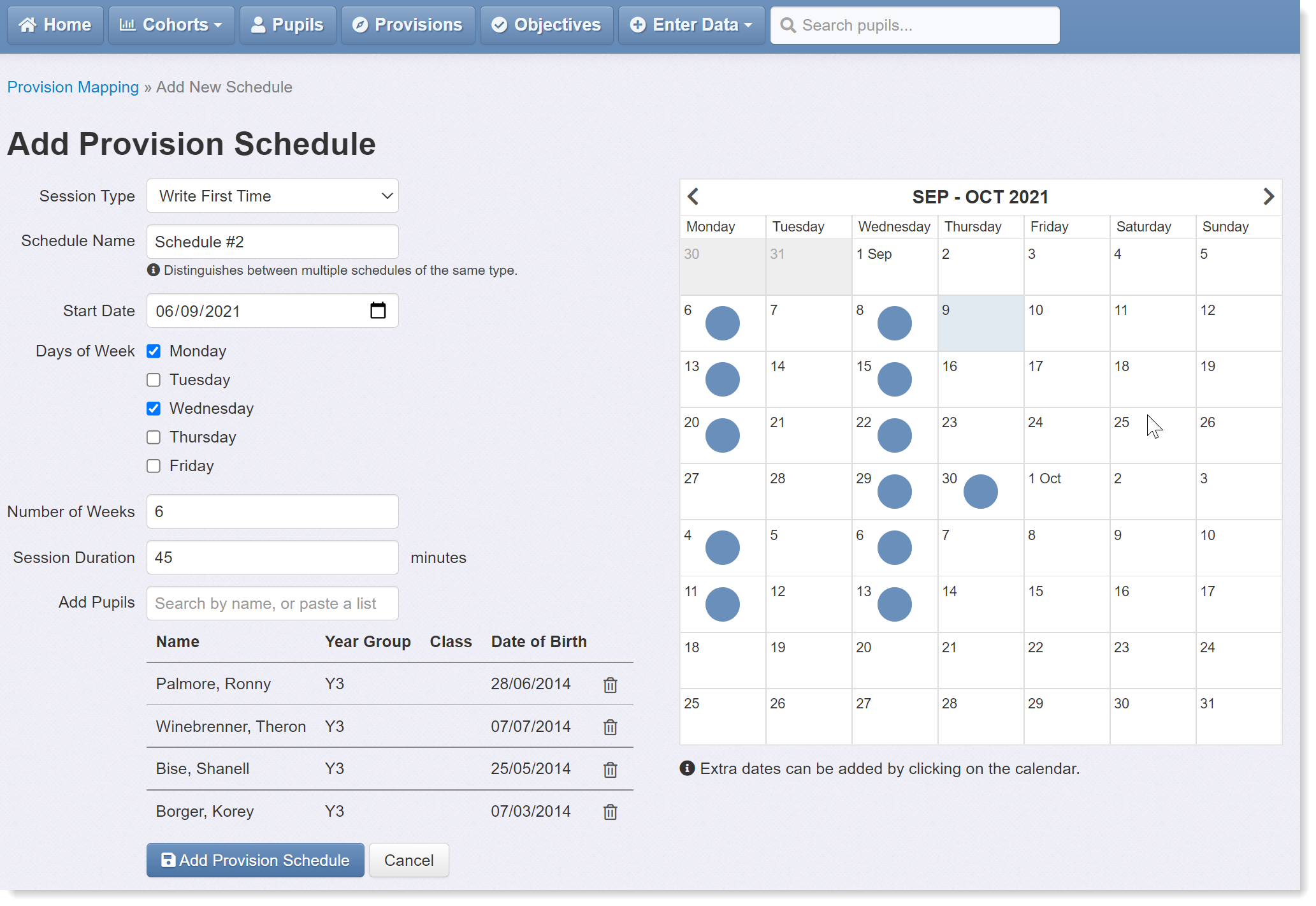 Here, we have created another schedule of this intervention - named Schedule #2 - for a group of year 3 pupils. It is scheduled to run for 6 weeks on Mondays and Wednesdays but one Monday session has been swapped to a Thursday due to a trip planned for that Monday.
Click Add Provision Schedule button to save and review the summary screen. Then click on the main Provisions button again and click on the Write First Time link in the list of provisions. This will show that we now have two scheduled of this provision:

You can either add a further schedule or return to the start and create new types of provisions.
And finally, click on the main Provisions button in the toolbar again and click Provision sessions calendar link:

This reveals a calendar of all scheduled provisions so far: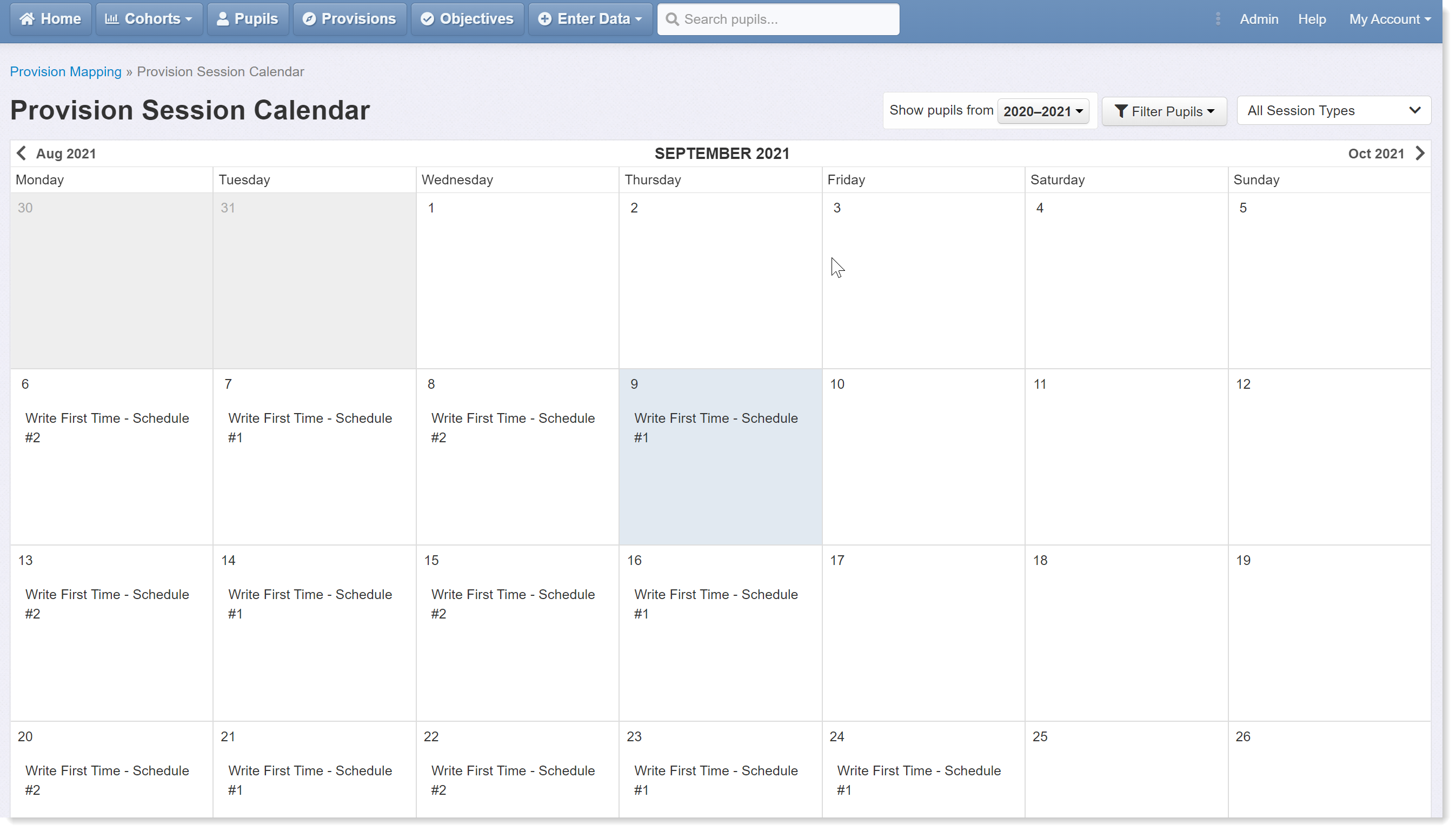 We hope this help guide has been useful and is helping you set up your provision mapping system. In the next help guides we will cover recording effectiveness and running reports.
Please contact the support team if you require further help.
---
---