Provision mapping - setting up resource-type provision

This help guide will show you how to set up a list of resource-type provisions in the new Provision Mapping tool, assign pupils and set costs.
Provision Mapping is a new addition to the Insight system. It is currently in development and undergoing trials in a small number of schools, and is due to be rolled out later in the 2021/22 academic year. There will be no additional cost for this feature, which will be included as part of your current subscription.
Provision mapping will allow schools to keep a record of the various types of provision offered to support pupils' learning, the pupils in receipt of those provisions, the number of sessions scheduled, costs involved, and an assessment of effectiveness.
Once switched on, users will note a new button in the tool bar:

Click this button to access the setup area. This will act as your bank of provisions and, initially, it will be empty.

You are prompted to create new types of provision of which there are two types: resources and sessions.
Resources - these are items bought or used to support pupils learning, for example a specific type of keyboard.
Sessions - these are likely to be the support programmes run in your school, which may be whole class, smaller intervention groups, one-to-one tuition, or extra-curricular activities.
Setting up a resource type provision
In the options box on the right hand side click to 'add new type of resource'. This will bring up the following screen: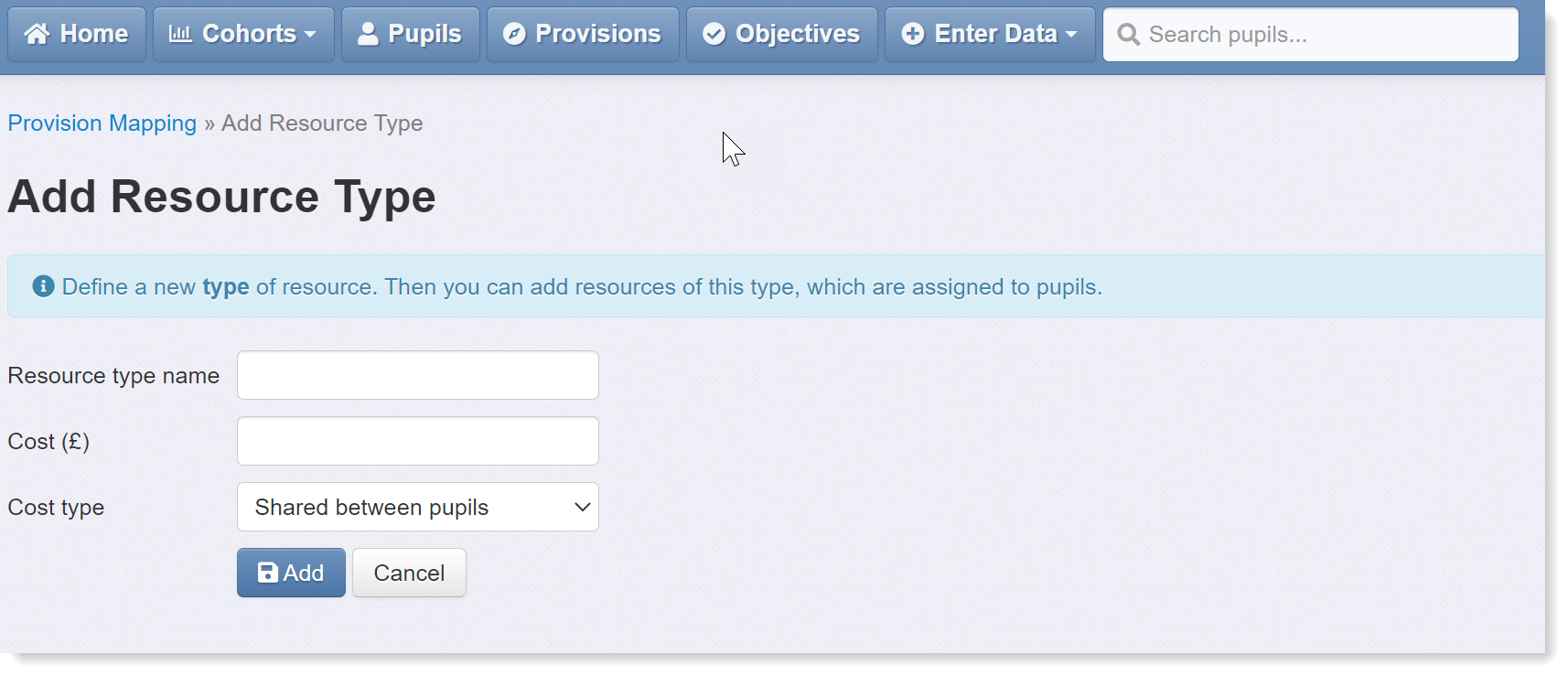 Give the resource type a name and enter the cost. For cost type, there are two options: shared between pupils and per pupil. Selecting the former will divide the cost by the number of pupils assigned to that resource; the latter will mean that the entered cost will apply to all pupils assigned to that resource. In the following example, an iPad has been purchased to support one pupil at a cost of £300.
Here, shared between pupils is selected as the cost type to ensure the cost per pupil is divided by the number of pupils assigned to the provision. Selecting per pupil would result in the cost being multiplied by the number of pupils using the device.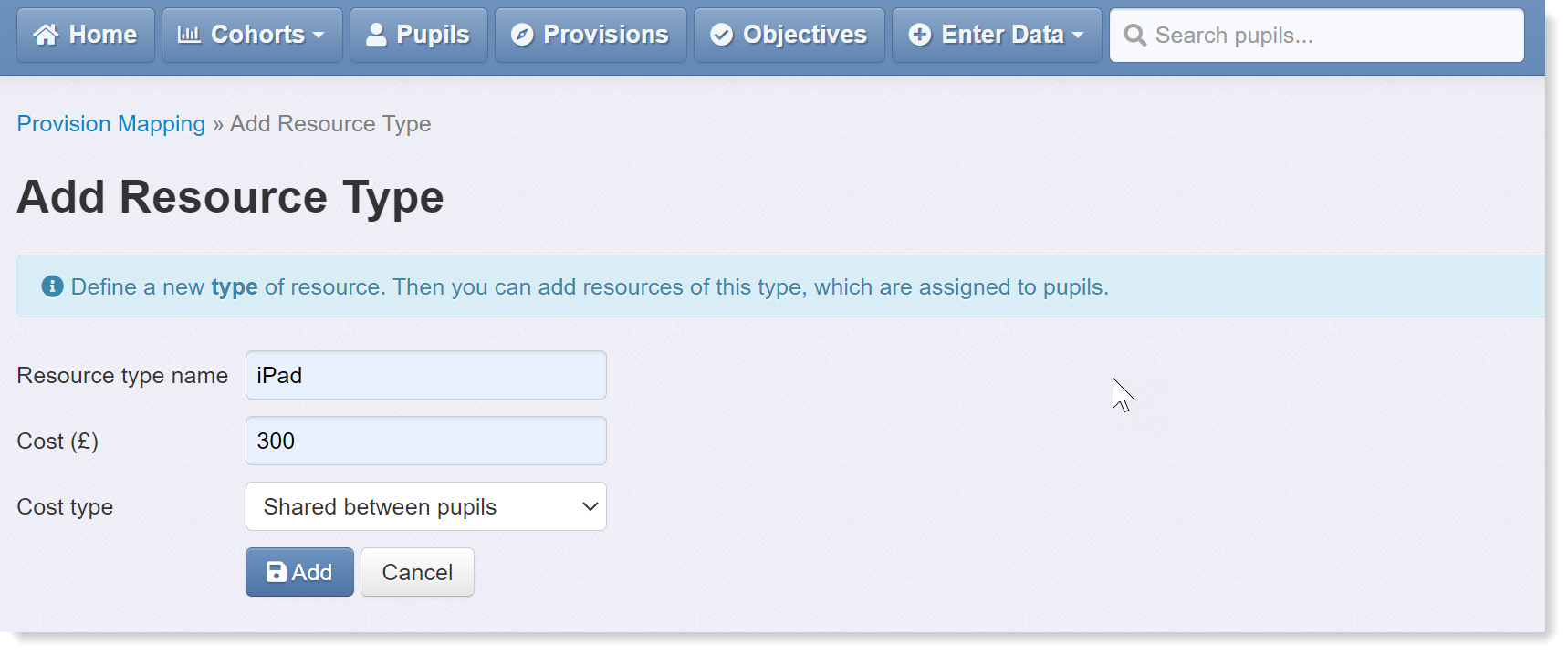 Click the 'add' button and this will take you to a screen that provides details for the provision. No pupils have been assigned yet; that can be done at this point by clicking the green Add Resource button:

The previously entered name, cost and cost type are pre-filled. Now you just need to set a purchase date and add pupils by typing in initials and selecting names from the list.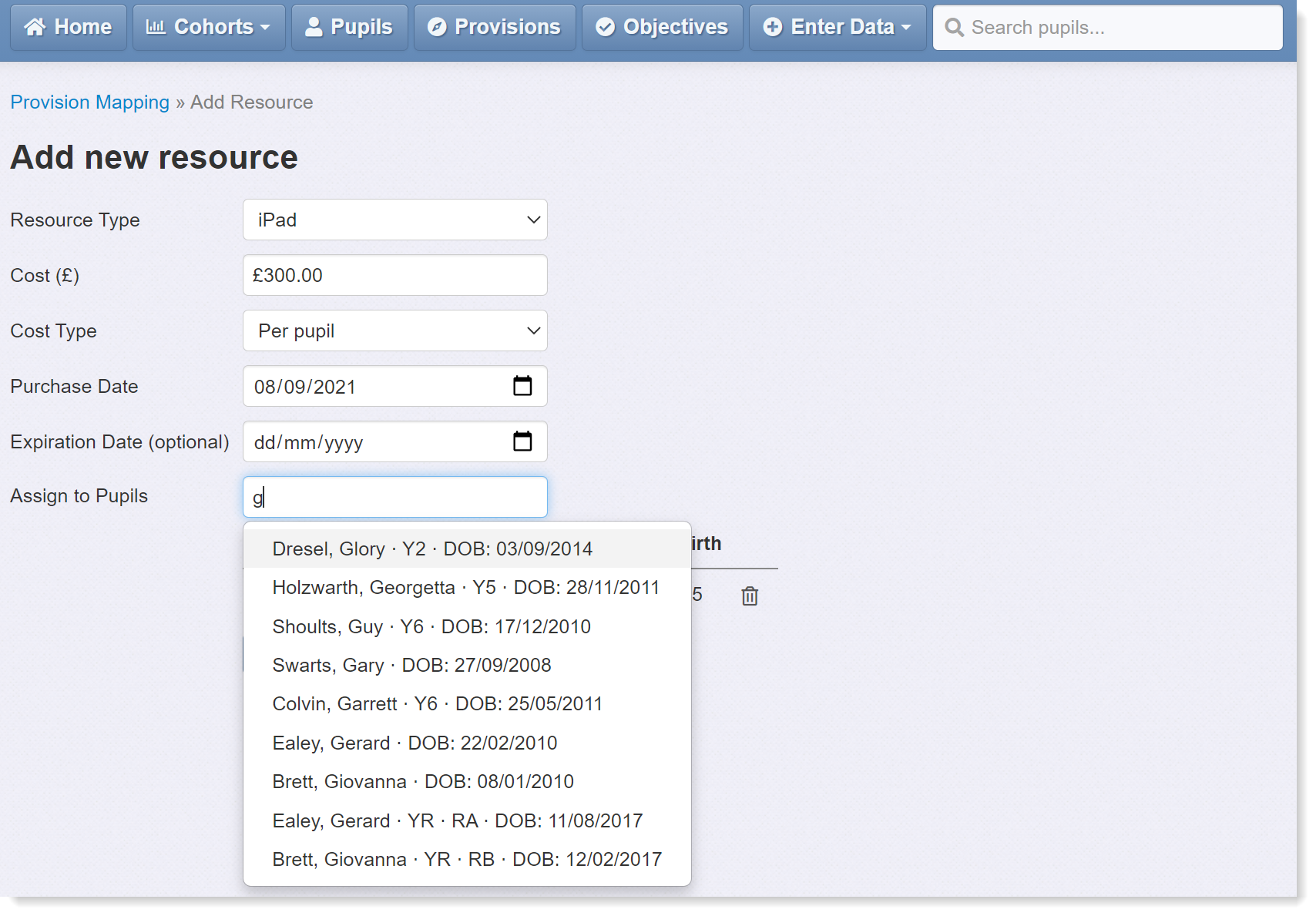 You copy and paste a list of names from an Insight table.
Once done, click the save button and you will be directed to this screen:

You have now created a resource-based provision, set costs and assigned a pupil. You can add additional pupils at any time by clicking the Add Pupils button.
Note the name iPad #1. This is because you may have multiple instances of that resource in use.
Clicking on the provisions button again in the toolbar will take you back to the main set up area:

At this point we can either create another type of provision, edit existing ones, or set up another instance of an existing one. Let's do the latter by clicking on the word 'iPad'. This brings up the following screen which shows instances of the iPad resource and pupil(s) assigned to it.

To edit the existing provision - for example, to change the cost of add more pupils - click on iPad #1. To create another instance (i.e. a second iPad) click the Add Resource button and go through the same steps above. Now when we return to the iPad provision window, we can see two instances of that provision.

Finally, let's go through all the steps and create a resource named 'headphones' for use with a particular group of pupils with SEND. Click on the main Provisions button in the toolbar and create the resource as follows: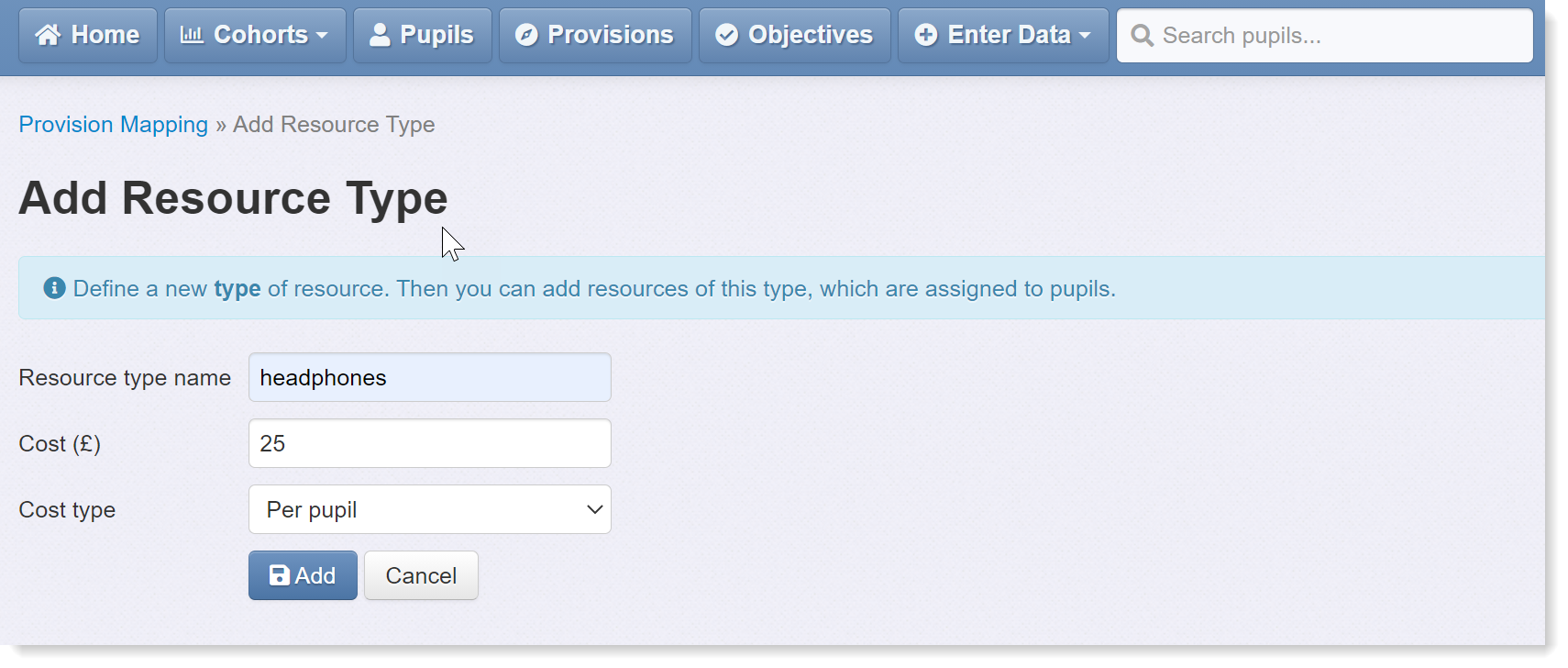 Note per pupil has been selected as the cost type because rather than potentially sharing the resource between children, they will have one each. Click add and then assign pupils to the resource on the next screen. Once completed, the headphones section of the provision mapping area looks like this:

You can now build up a bank of resources that you use in your school to support pupils' learning. In the next guide, we will go through how to set up session-type provisions with a timetable.
We hope this help guide has been useful. Please contact support if you need any further help.
---
---