Getting started with learning plans in Insight
Here at Insight we've been working hard on development of the new provision mapping and learning plan tools. The provision mapping area allows you to set up, schedule and cost the provisions you run in your school to support pupils with special educational needs. In this help guide, we'll be looking at the Learning Plan component, specifically how to make use of our default template to capture and monitor information about pupils with SEND, to ensure provision is effective and that pupils are making good progress towards their targets.
Templates
The new learning plan tool works in much the same way as Insight's parent report tool. At its core is a word template designed to your specification, that will contain all the information you need in a format that matches the proforma you already use in your school. These will then be stored on the system in a library of learning plans for easy monitoring and instant retrieval. And because we use Word, it means you can take advantage of powerful page layout functions to personalise your template. For example, you can add a school logo or other graphics. We will show you how to design your own template in subsequent help guides, but first let's take a look at the default settings.
Getting started
Once the learning plan feature has been switched on, you will note a new tab in a pupil page:

If you have not yet added a learning plan for a pupil, you will be prompted to create a template. Fortunately, we have a default template to get you started. Click the Admin>Learning Plan Templates link shown in the screenshot above. This will take you to a new screen - click the New Template button shown below.

You will now be directed to the learning plan template admin area where you can edit, download and upload your templates. Let's ignore this for now and return to the pupil page we were looking at earlier. The learning plan tab will now prompt you to Create Learning Plan. Click this button.

You should now see a new page with blank text boxes and tables.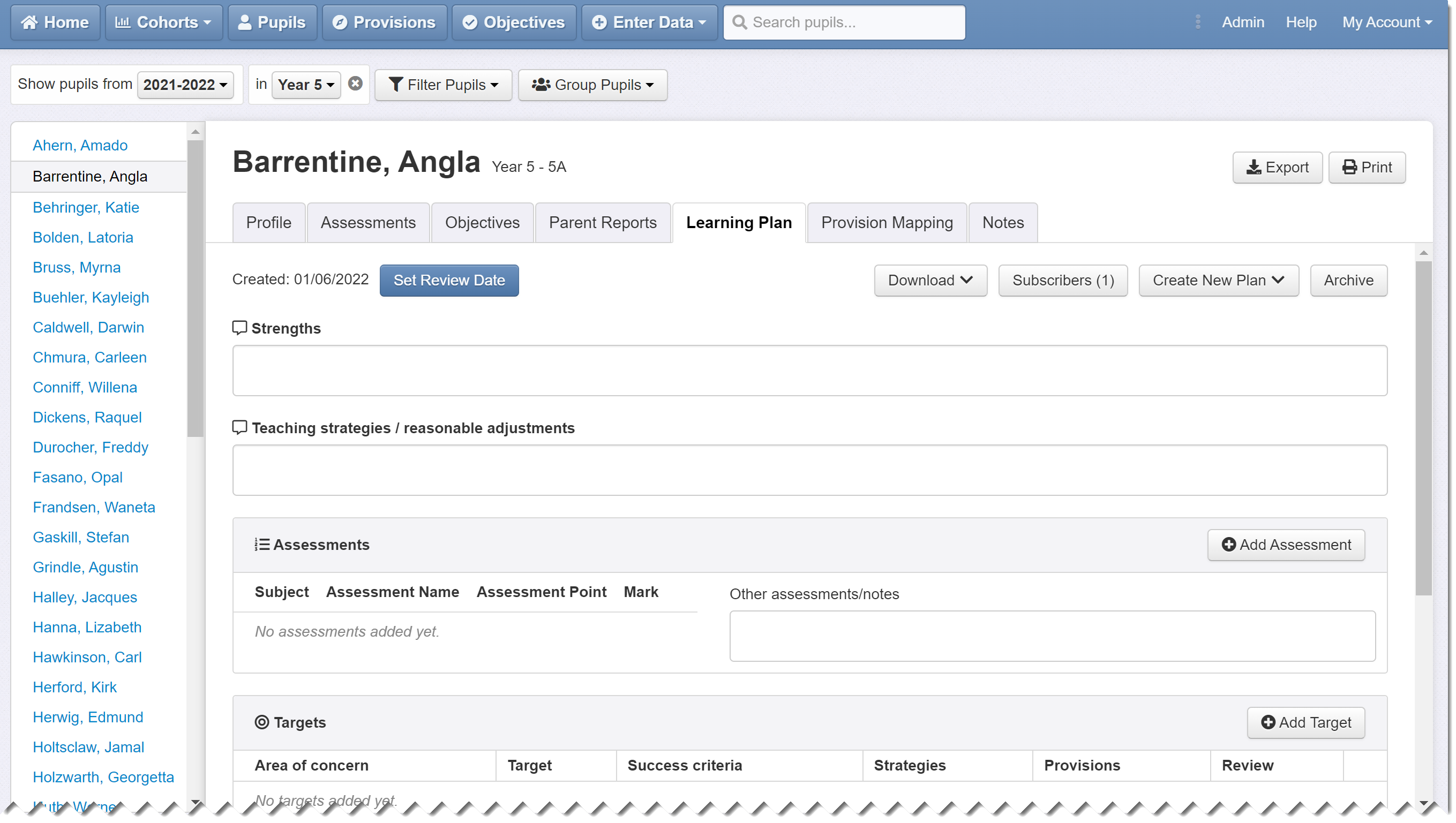 These boxes - the number of them and their headings - are defined by our default template and are fully editable. Alternatively, you can create your own template, which will we look at in a future help guide. For now, let's enter some information into the default boxes provided.
First, set a review date. Simply click the button and select a date from the calendar. You can then click on the subscriber button and select members of staff involved in this particular plan. They will be emailed 3 days before the review date.
You can then start to write some comments in the various boxes provided. These are free text boxes.
Adding assessments
Adding assessment data to a learning plan is easy. Simply click the Add Assessment button.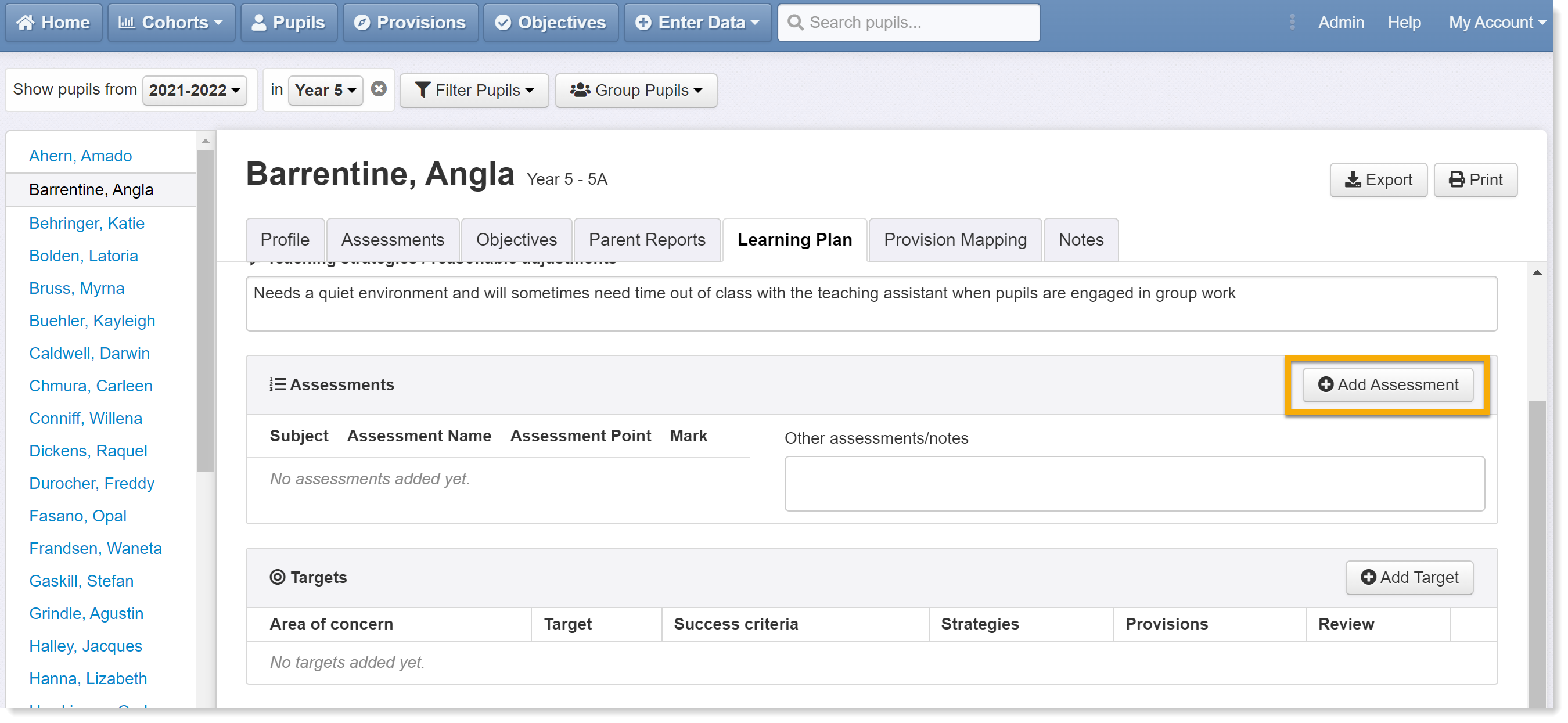 You will be presented with a pop-up window containing the pupil's assessments for the current academic year. Add assessment data to the learning plan by clicking on them. You can add as many items of data as you like.
Use the academic year dropdown in the Choose Assessment window to access and select assessments from previous years.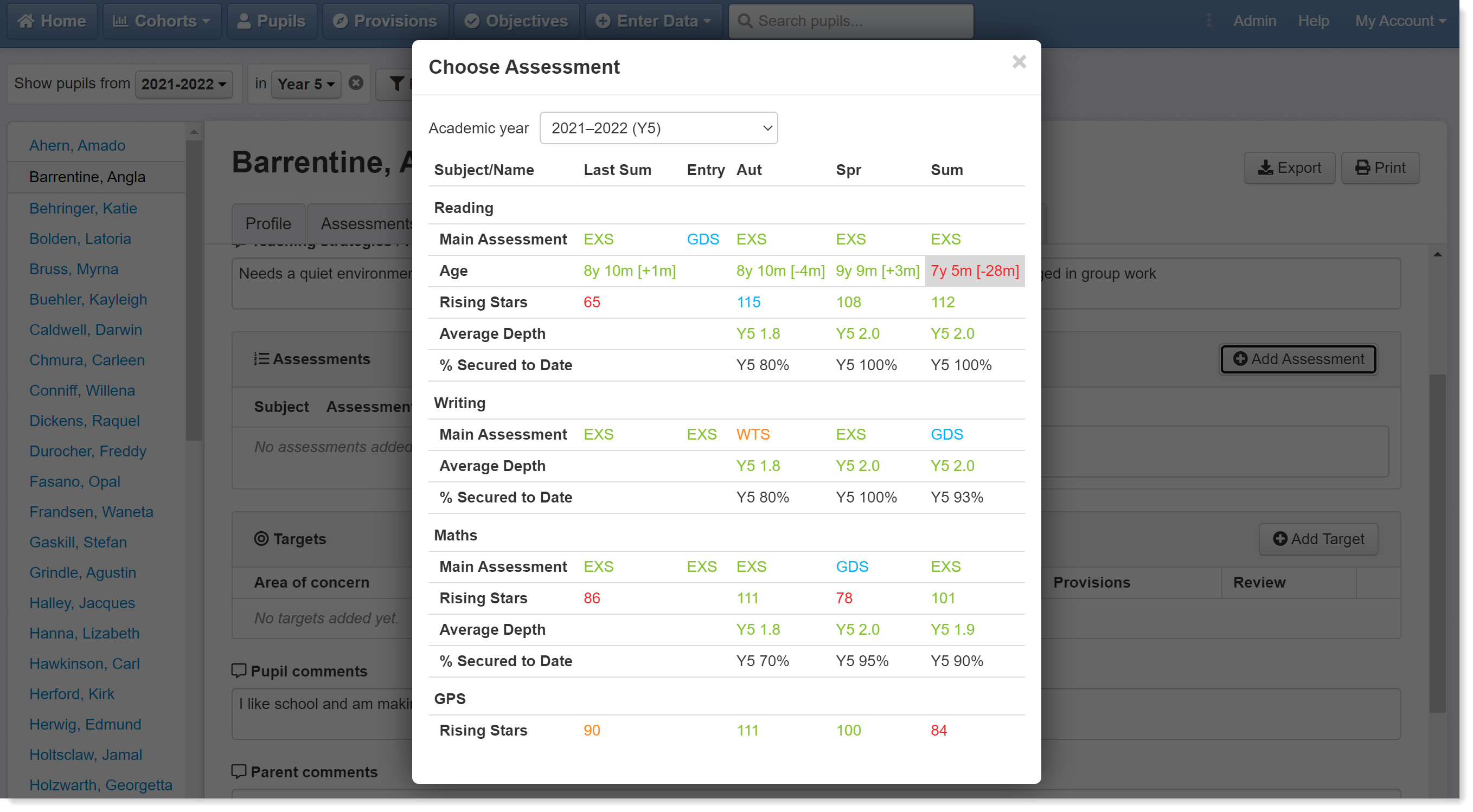 Selected assessments will be listed in the learning plan.
You can also add clarifying notes about assessment or ad hoc assessment information in the text box provided (see screenshot below)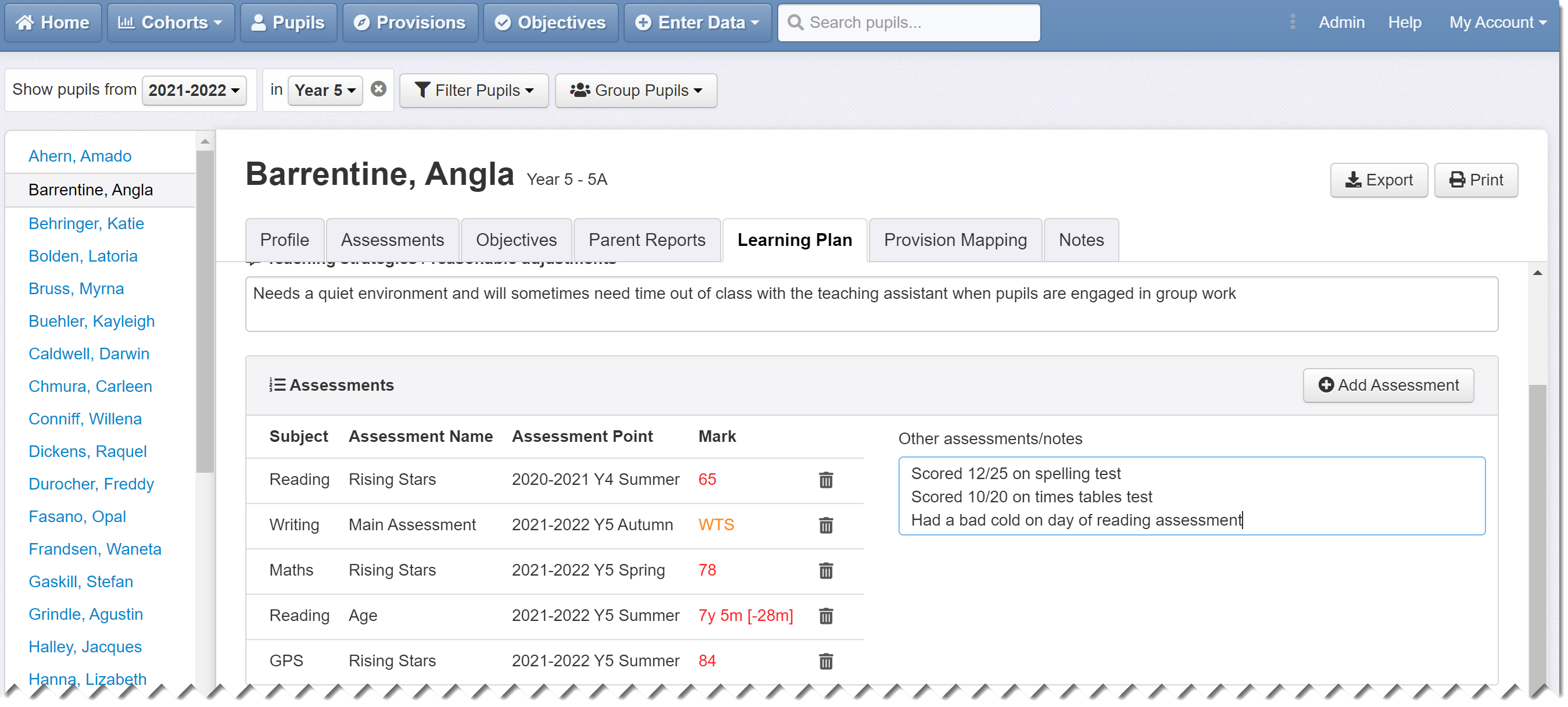 Adding targets
We can now scroll down and add some targets. Again, the format of this box is not fixed: you can change the number of columns in the table and edit the headings. Click the Add Target button.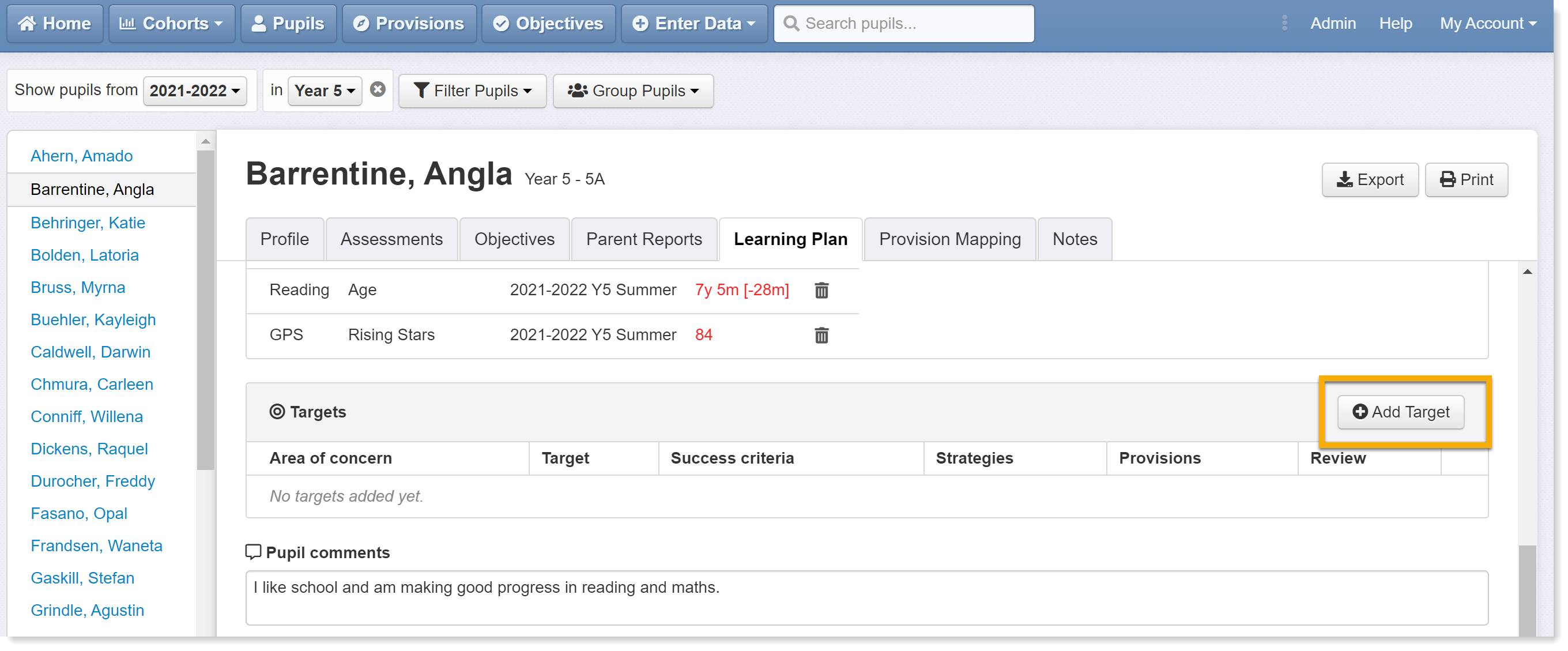 The first four columns are free text boxes into which some information has been added.

To add provisions to these targets, click in the relevant cell in the Provisions column. You will be presented with a list of provisions you have created.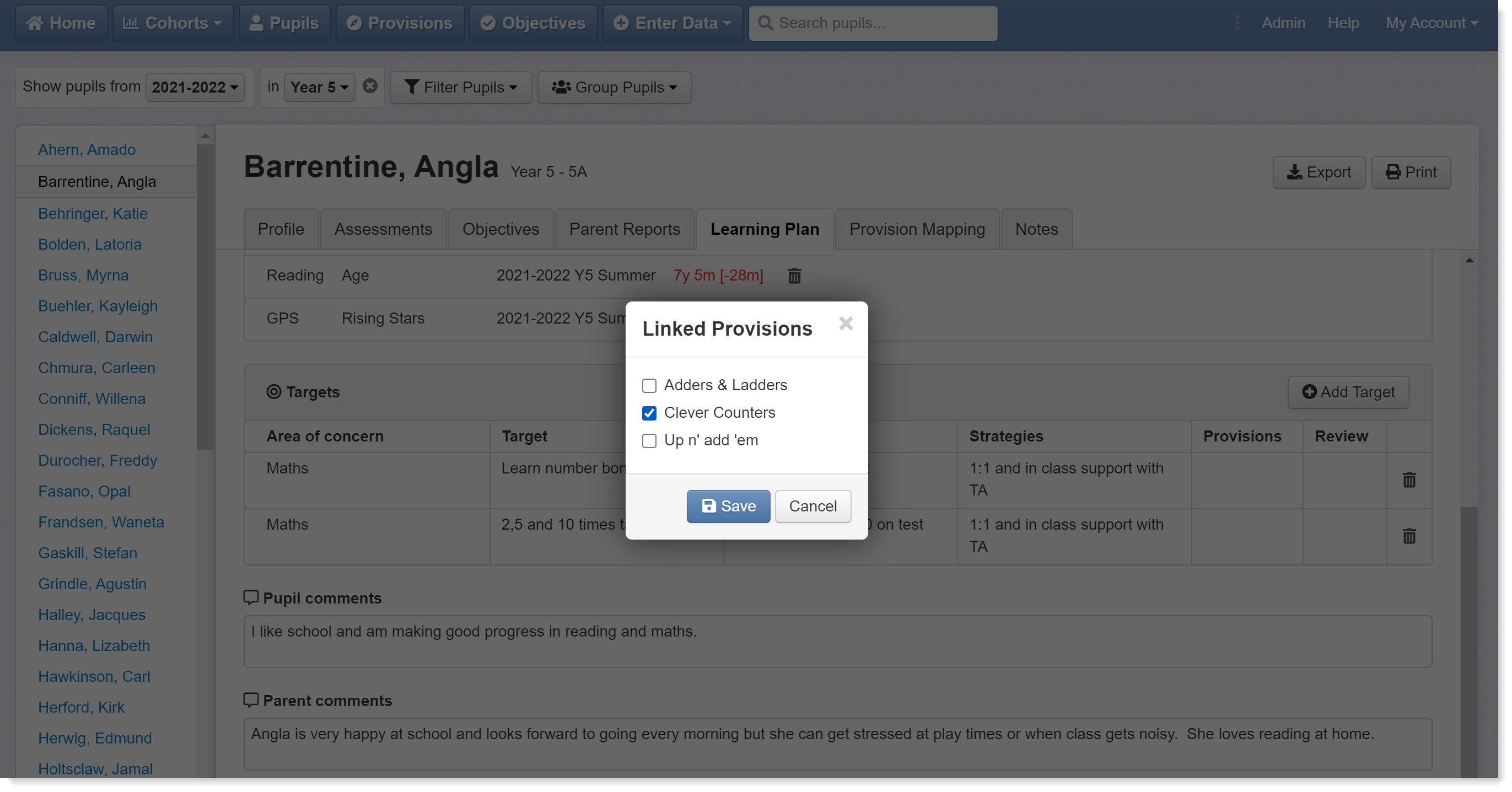 Select the relevant provision from the list and click save. This will add the Clever Counters provision to the targets area of the learning plan. Repeat this for all targets, as applicable.
Reviewing the target
The final element is the review. Click in the cell in the review column to access the review panel. Select an option, make a note, and click the Review button to add the information to the plan.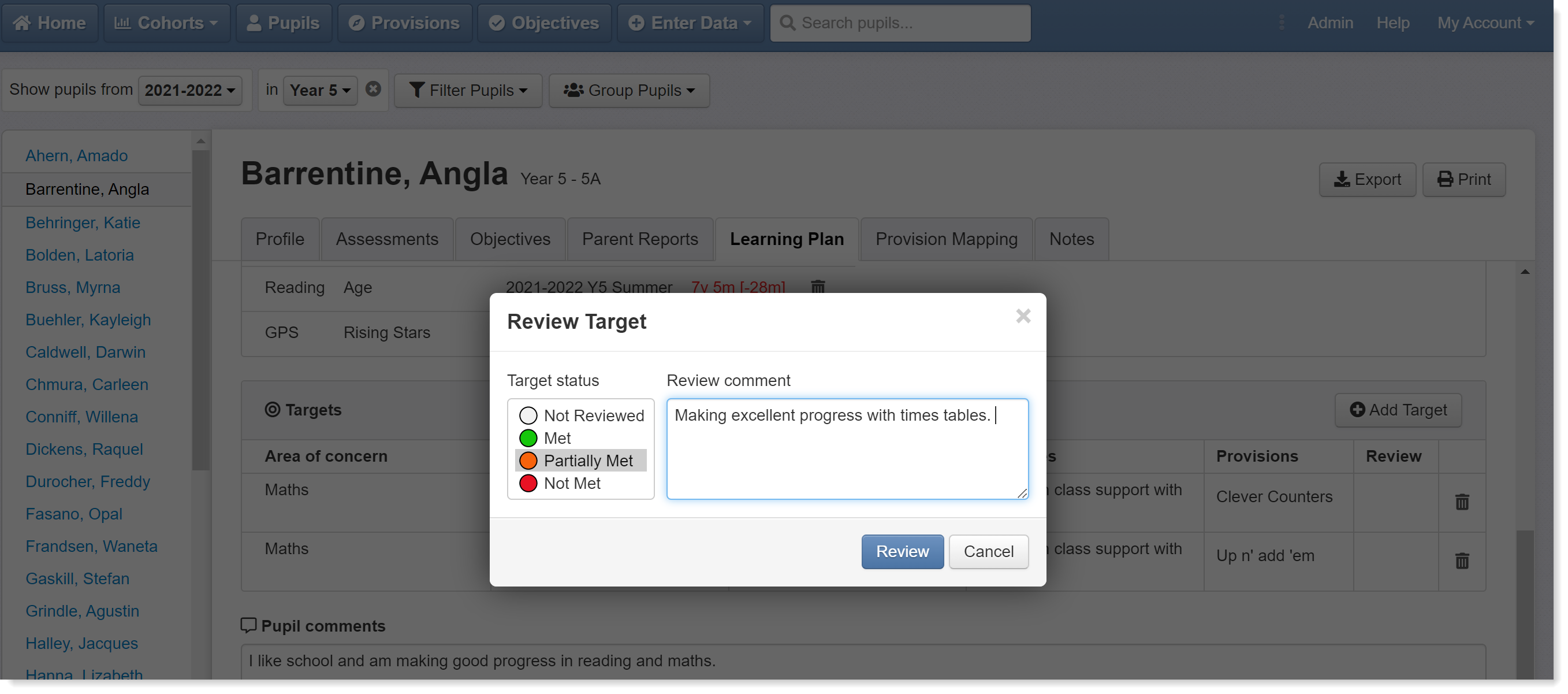 The targets area of the plan is now complete and will look something like this: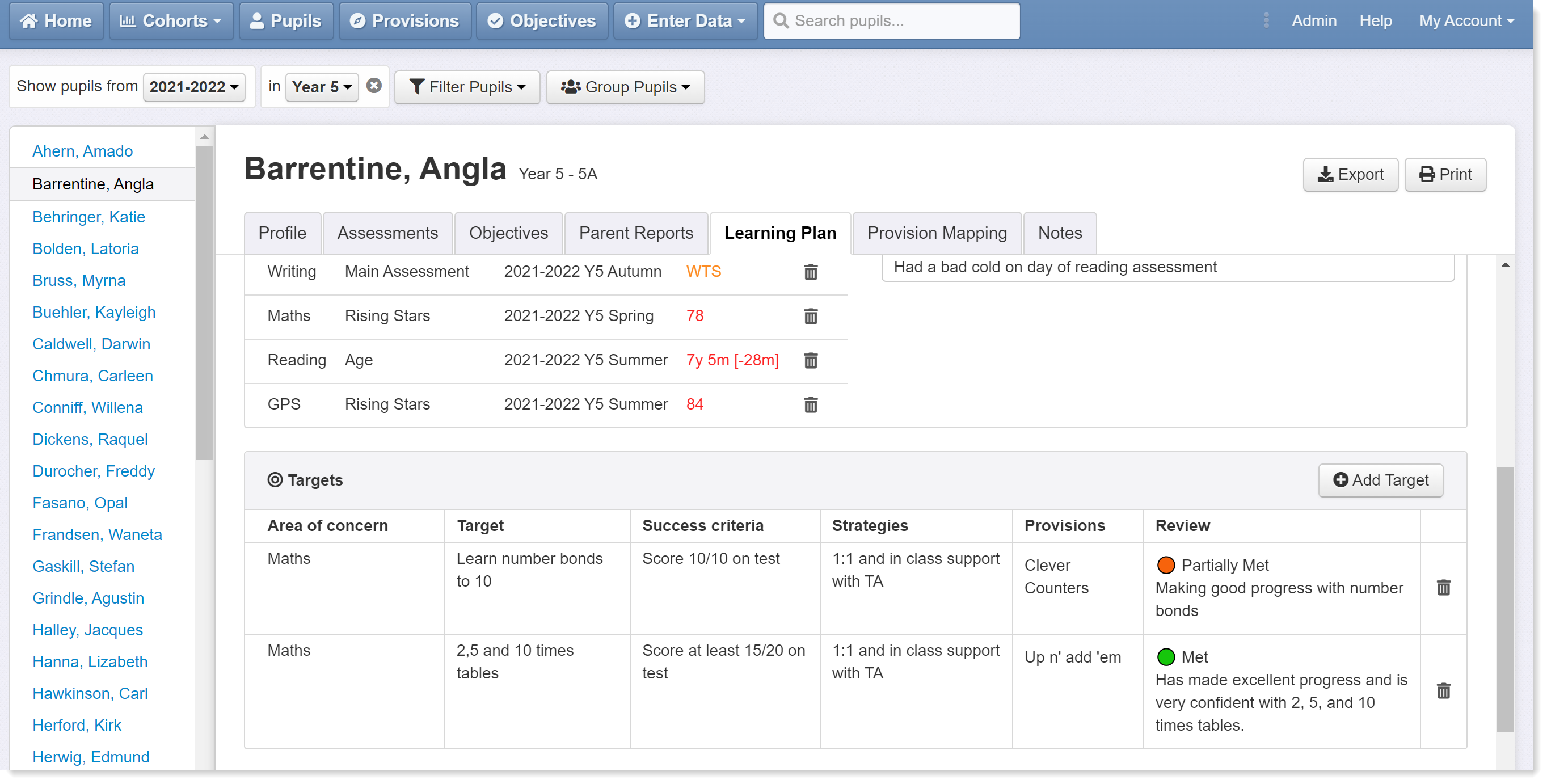 When all comments boxes are completed, targets set, and assessments added, you can download the plan for printing and emailing. Scroll up and click on the download button. You have the option of downloading in Word or PDF format.

The downloaded version will look something like this: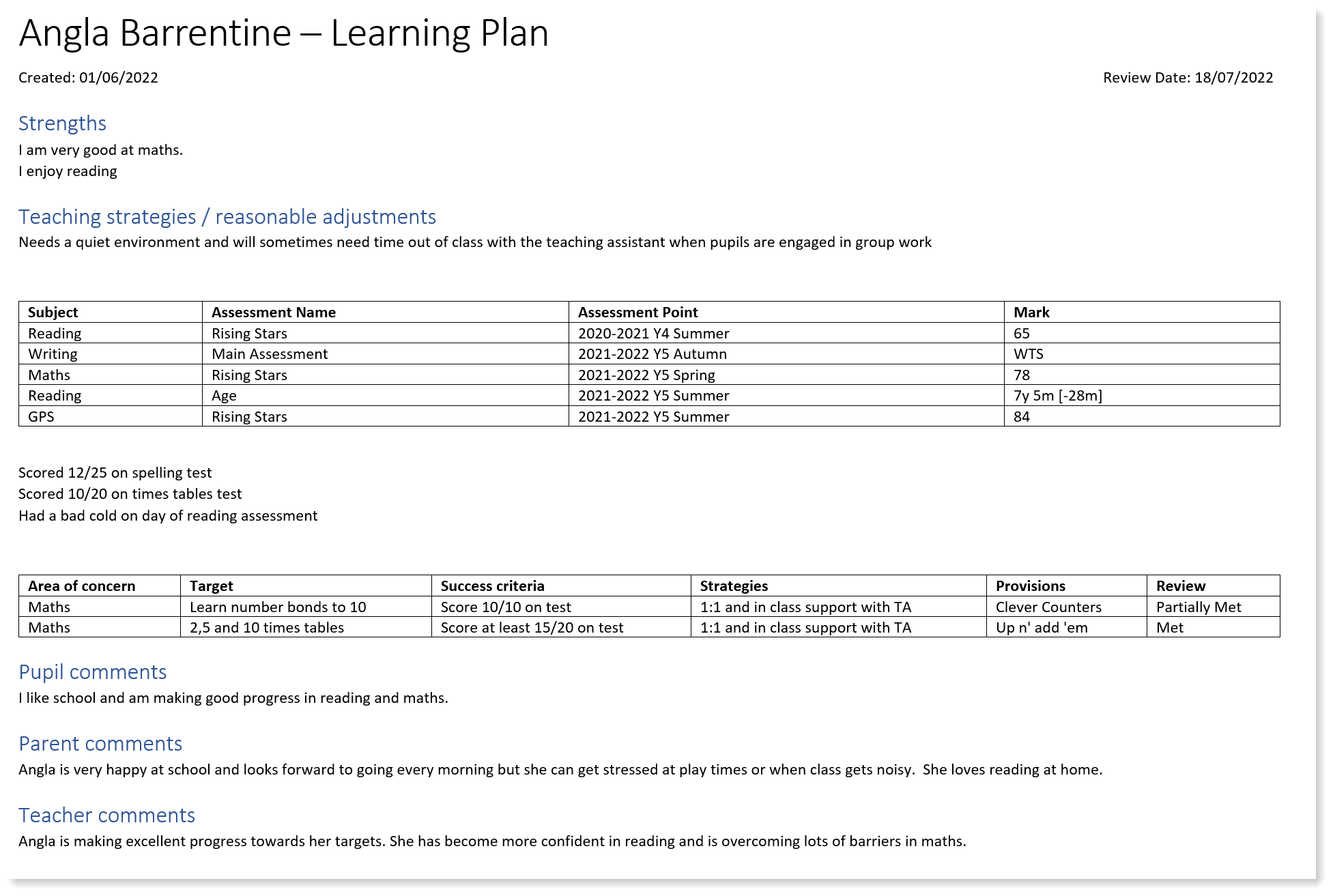 Of course, this is a learning plan based on the unedited default template. In the next help guide, we will show you how to edit that template and then move on to building one from scratch.
We hope this help guide has been useful. Please get in touch if you have any questions or comments.
---
---